Conquering Self-Doubt: 4 Ways To Help Adults Return to Higher Ed


From a fear of failure to concerns they've been out of school too long, adults returning for more education and training can doubt their ability to succeed. Here are resources for institutions that want to ease the transition.

Self-doubt can be a deal-breaker for adults considering going back to college. In fact, according to a recent Strada Public Viewpoint survey, nearly half of all adults say that if they enrolled in a postsecondary education or training program, one of the biggest challenges they would face is self-doubt — a concern that even outranked cost.
That self-doubt takes different forms: According to the same research, 39 percent of working-age Americans think they've been out of school too long,and 35 percent fear they simply won't be able to succeed.
An adult learner who makes the decision to go back to school requires a serious commitment — just like the commitment they make to their family or job. But how can an institution help adult learners overcome the voice in their heads that causes them to hesitate? How can educators nurture a healthy sense of confidence to help adult learners tap into their strengths and push away the self-doubt?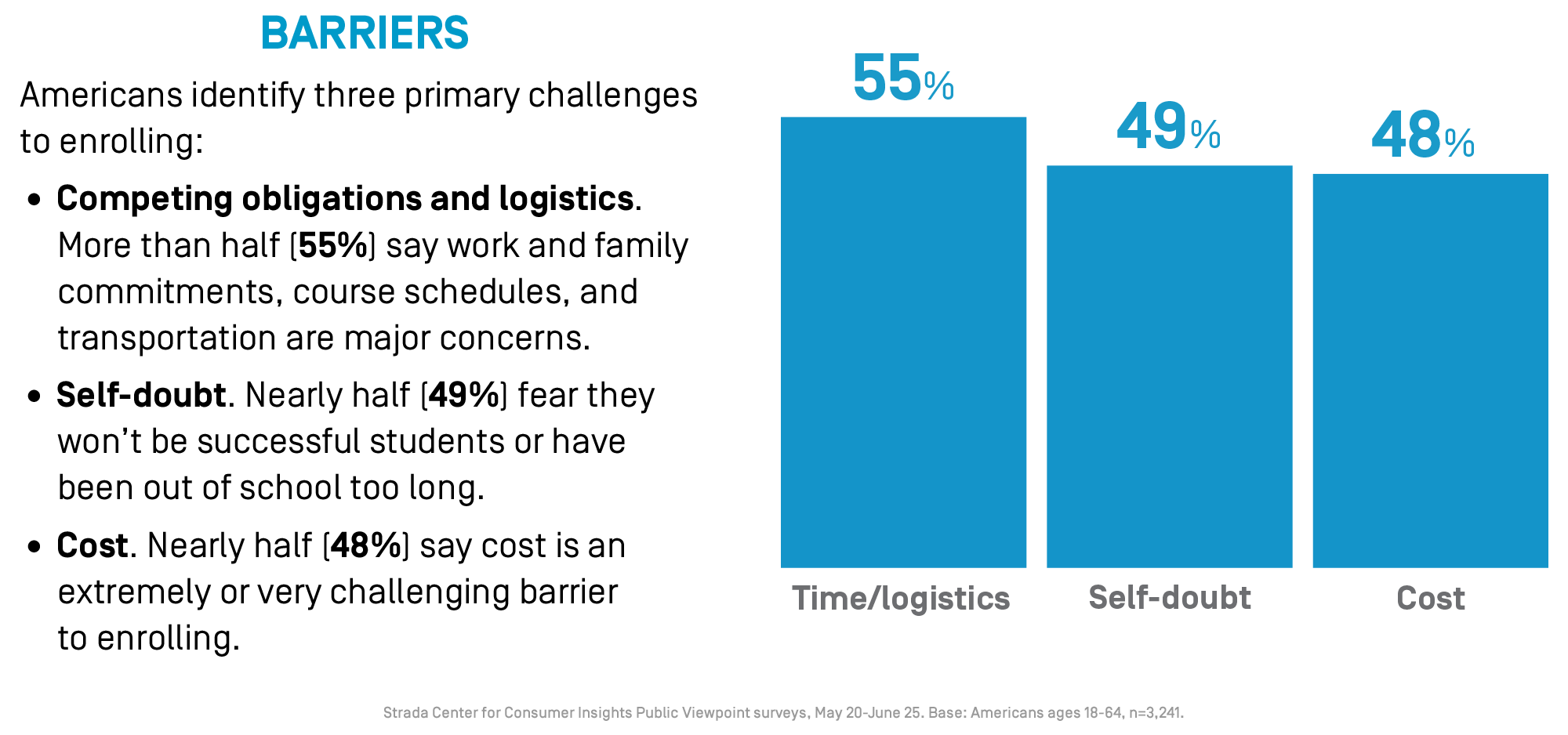 1. Anticipate their questions and encourage them to ask even more.
Adults who are back in school need to know it's always OK to ask for help — whether it's a question about an assignment, a new technology, or how to balance work, family, and school commitments. So make it clear that professors, advisors, counselors, and administrators are there to help — not to be intimidating impediments encountered on the path to completion. Particularly when working with returning students, representatives of the institution should try to see the experience as a student would — and be prepared to put them on the right track. Pointing out the availability of resources such as the institution's writing center, career counseling services, and various networking opportunities will help them get their questions answered — and squelch the voice of imposter syndrome and self-doubt. The ultimate goal: to help a student secure a great job, whatever the future holds.
2. Help them make (and stick to) a plan.
The road to earning a degree or credential is paved with projects, papers, discussion groups, and exams. To stay on track, learners need to set goals: long-term goals, like finishing the research paper due at the end of the term, and short-term goals, like weekly reading, reflection, and writing assignments. For adult learners juggling responsibilities beyond a classroom, typical time management tools can help. But the complicated lives of adult learners often must accommodate work, family, and major life events too. Institutions that prepare for the needs of adult learners understand how helping students learn to balance their lives outside school leads to academic success.
In our student success series, InsideTrack coaches discuss everything from how to be proactive in establishing communication with faculty and staff to how to assess your own strengths:
3. Show them how to build a team.
Attending college as a working adult is a team sport. That's why it's important to build a healthy support system to help adult learners along their journey. Start by understanding their educational goals, why those goals are important to them, and how they plan to accomplish them.
Encourage them to let those around them — not just at the institution, but also coworkers, neighbors, and family members — know how they can support them in achieving their goals. To prepare for what comes next, introduce them to LinkedIn so they can start making connections in their field. And just like any good team, remember to celebrate milestones along the way.
4. Believe in them.
Starting or returning to school as a working adult, often with a family, is no easy task. It's the beginning of a new chapter that can lead to a better life — and those who successfully complete the journey are at the very heart of the true mission of education.
By preparing these adult learners for success, buoying them with resources, and surrounding them with a supportive system of professors, advisors, mentors, and administrative staff, you can help them get through those times when fear and self-doubt creep in. Remind them that they have already accomplished the hardest part: getting started. They've applied to college, selected a major, and signed up for classes. Combined with all of the challenges they overcome obstacles on a daily basis — raising kids, working long hours, dealing with demands of all types — they already know how to succeed. Will there be bumps in the road and setbacks? Absolutely. But by drawing on their determination to problem-solve, persevere, and learn, they are bound to succeed — and their institutions will be there to support them, every step of the way
InsideTrack, a student success organization that is a nonprofit affiliate of Strada Education Network offers data-informed coaching and staff training to help students navigate and complete college.
---
This content was paid for and written by InsideTrack.
The editorial staff of Inside Higher Ed had no role in its preparation.