Twenty Bright Stars:
This Year's All-USA Academic Team Scholarship Recipients Named

In spite of a difficult year marked by a pandemic and wide-spread social unrest, 20 community college students have been recognized for their academic excellence and leadership both on and off campus with the coveted All-USA Academic Team Scholarship.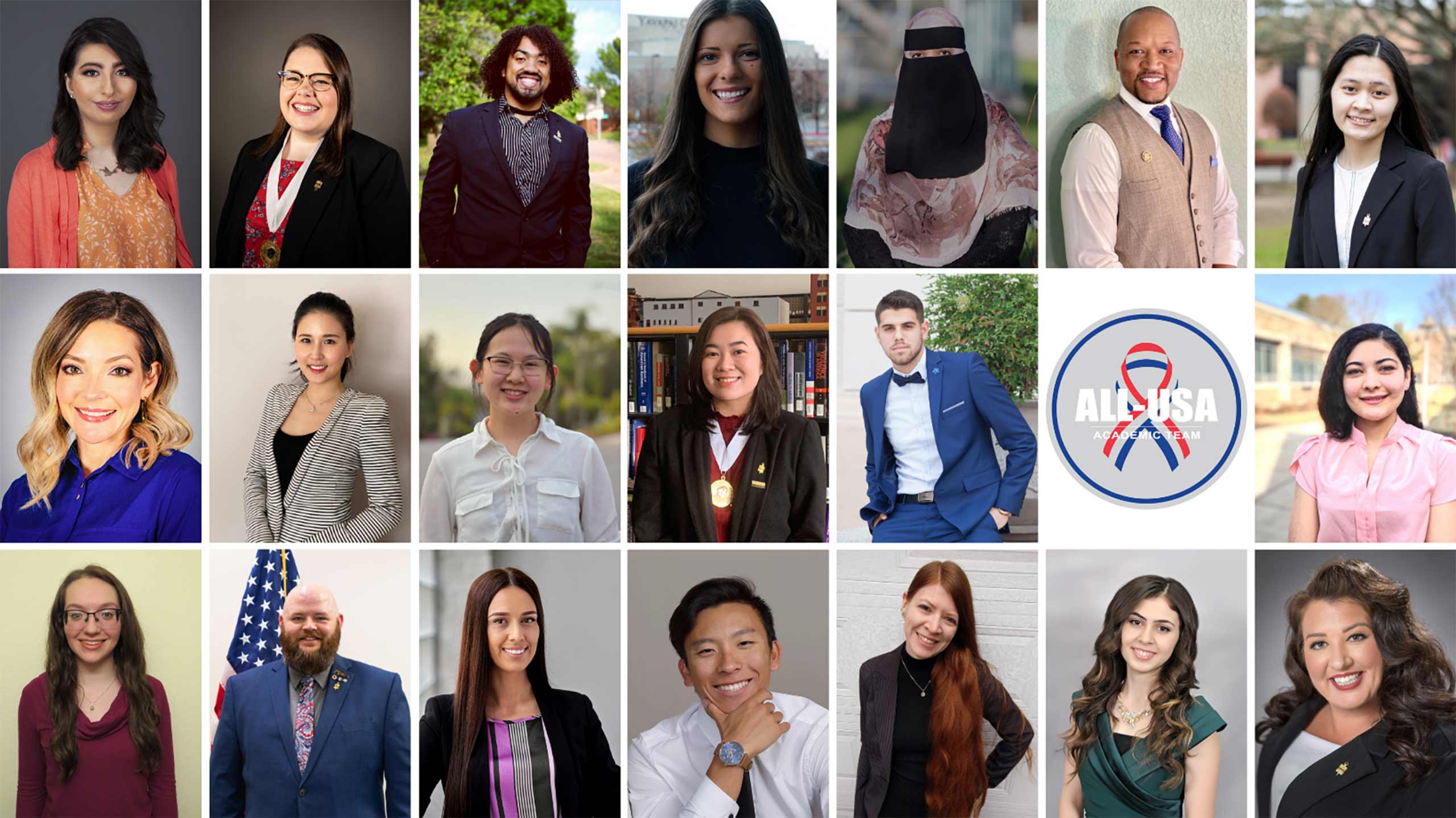 Twenty Bright Stars:
This Year's All-USA Academic Team Scholarships Recipients Named

In spite of a difficult year marked by a pandemic and wide-spread social unrest, 20 community college students have been recognized for their academic excellence and leadership both on and off campus with the coveted All-USA Academic Team Scholarship.
Custom content sponsored by Cengage

The COVID-19 pandemic has disrupted so much of what higher education has long deemed to be normal. In a span of just a few months, work and study plans were put on hold, teaching and learning was moved into unfamiliar environments and a great number of students' lives were changed due to dramatic financial and personal challenges. Still, amidst the uncertainty of the last year, 20 students managed to exemplify exceptional academic leadership and growth and have worked not only to better themselves but also to improve their schools and communities. For these students, 2021 is proving to be a year in which their tireless efforts are rewarded. Each winner has been selected to receive a $5,000 scholarship, for a total of $100,000 in scholarships awarded, through the All-USA Academic Team Scholarship program.
A holistic approach to picking winners
The recipients of this year's scholarship, which is sponsored by education technology company Cengage, with support from Phi Theta Kappa Honor Society, are now part of an elite group. This scholarship is widely recognized as the most prestigious academic honor for students seeking an associate degree or credential. Recipients are among the top community college students in the country based on their leadership both on and off campus. Ranging in age from 18 to 45, they were selected from a pool of 2,000 students nationwide; nominated by their colleges. Of this year's 20 scholarship awardees, fifteen of the 20 winners are women, over half (11) are first-generation college students, five are caring for dependents and four are international students.
While GPA was a factor, judges took a holistic view of the applicant pool, considering those who excelled in spite of difficult circumstances. Many winners are part of a demographic of "non-traditional" college students who aren't often eligible for scholarships and who may struggle to access higher education to begin with. The All-USA Academic Team scholarship is remarkable not only in its focus on those pursuing an associate degree (students at 4-year colleges are three times more likely to win scholarships), but also in its focus on helping those who will benefit most from its impact.
"The All-USA Academic Team represents the top 20 students from an exceptional pool. They are set apart by their hard work both inside the classroom and in their communities. We are pleased to work with Cengage to celebrate their achievements and provide additional financial support to help them further their goals." shared Dr. Lynn Ticher-Ladner, president and CEO of Phi Theta Kappa.
2021 All-USA
Academic Team Scholars
Geri Bakushi | Cuyahoga Community College | Ohio
Yasmeen Berry | Henry Ford College | Michigan
Savannah Berryman | Northwest Shoals Community College | Alabama
Monica Bliss | Berkshire Community College | Massachusetts
Ferdinando Castro Gonzalez | Richland College | Texas
Bernard Harrigan | Palm Beach State College | Florida
Preston Hong | Saddleback College | California
Kerry Katz | Community College of Allegheny County | Pennsylvania
Bagul Mammedova | Jamestown Community College | New York
Yozgyul Mustafova | Harry S. Truman College | Illinois
Yasaman Nassab | Irvine Valley College | California
Mary Nguyen | Lone Star College | Texas
Bianca Isabelle Osma | Passaic County Community College | New Jersey
Jared Smith | West Virginia University | West Virginia
Samiha Syed | College of DuPage | Illinois
Erin Tan | Mt. San Antonio College | California
Kari Warne | Yavapai College | Arizona
Angela White | Pima Community College | Arizona
Jacquelyn White | Johnson County Community College | Kansas
Dahyun Yoo | Bergen Community College | New Jersey
CONGRATULATIONS!
Community college students often have the most to gain
For many people, affordability is one of the most important features of the community college path to a degree and employment. And while community colleges have long offered a comparatively affordable, accessible education, they continue to find innovative ways to reduce cost barriers for students, at scale. That innovation is of utmost importance today.
"Community colleges play a critical role in educating the majority of underrepresented, low-income and first-generation students, as well as in providing reskilling opportunities that will be critical in our economic recovery," explained Fernando Bleichmar, Executive Vice President and General Manager for U.S. Higher Education at Cengage. "Yet, unfortunately, community college students have been most impacted by the pandemic as many had to forgo or delay their education because of financial or other challenges."
Along with Phi Theta Kappa, Cengage is a sponsor of the scholarship and has helped community college students save nearly $90 million on course materials since 2018 through its affordable Cengage Unlimited digital subscription.
When winning is personal
For many of this year's All-USA recipients, the honor is more than just an academic achievement; it's personal. Among the winners, for example, is Bernard Harrigan of Palm Beach State College in Florida, who has accomplished great things for himself as a student, as well as for his community. A 45-year-old first-generation college student and Psychology major, Harrigan is also a disabled Army veteran who found himself and his wife out of work in early 2020. In spite of these hurdles, and in addition to maintaining a high GPA, he planned, co-hosted and facilitated a two-day intercampus summit on diversity, equity and inclusion, with a second summit planned for this spring.
"To be a Black American and living a life less desired or treated as not amounting to much is the usual for me," said Harrigan. "So this feeling of acceptance and recognition is new, exhilarating, and empowering in so many ways."
Keeping an eye on a bigger prize
While these students may be pursuing associate degrees, most plan to make higher education a staple in their lives and have their sights set on pursuing further degrees. All but one winner plan to pursue a master's degree or a doctorate, with majors spanning from Biomedical Sciences, Engineering and Business Management, to Theater, Criminal Justice and Event Management. 
As for Harrigan, the primary focus as he continues on in his educational journey is serving as a positive role model to his sons by helping others.
"I know I want to make a difference for many and all who need it," he explains.
---
This content is sponsored and written by Cengage. The editorial staff of Inside Higher Ed had no role in its preparation.
---