Crossing the Border, Building a Bridge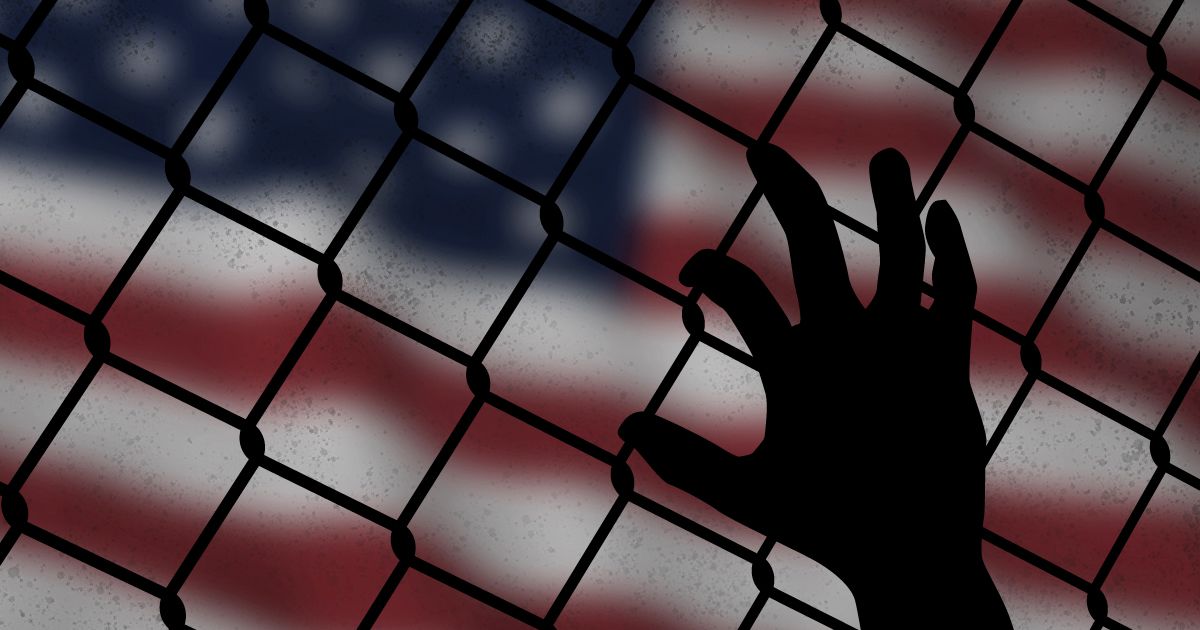 In 2019, Nancy Rios-Contreras was doing research with migrants at the border in Tijuana, Mexico, when someone walked into a Walmart in El Paso, Texas, and murdered 23 people.
When Rios-Contreras heard the news, she was with a man from Nicaragua, a father who had already traveled thousands of miles in perilous conditions in hopes of finding a safer home for his family. But the rise of gun violence in the U.S., especially violence perpetrated against immigrants and people of color, left him wondering if trying to cross the border was the right choice. "Is it worth it?" he asked her.
Rios-Contreras, an assistant professor of sociology at Chapman University, has been studying the dynamics of the migrant community in Tijuana since 2018, when migrant caravans at the U.S.-Mexico border started to dominate U.S news and political discourse.
"Tijuana is a beautiful city," Rios-Contreras says. "There are migrant communities from all over the world there – people who have tried to reach the United States. Unfortunately, they're not able to complete the journey because of U.S. policies. So now they're in Tijuana, building community. You have people who have opened businesses. You have people who have been forced to acquire skills and to learn Spanish. So I think it's a very beautiful community as well."
But that beauty is often masked by the city's reputation as the most dangerous city in the world, based on homicide statistics. Rios-Contreras' goal is to get past the community's alarming statistics and reveal the complex human stories underneath.
Her research, supported by a grant from Chapman's Scholarly Creative Fund, has allowed her to distribute cameras to individuals within the community, giving migrants the opportunity to document their own stories without the intrusive lens of an outside researcher. By collaborating directly with migrants and asylum seekers, Rios-Contreras has started to build a holistic and more accurate portrait of their lives and of the complex, diverse community that has emerged at the Tijuana border.
Understanding a Complex Community
"When I started my research, it was mostly migrants from Central America who were coming – from Honduras, El Salvador, Guatemala – to Tijuana in order to reach the United States," she says.
Over time, though, the migrant population in Tijuana has shifted. Along with the Central American migrants, there are an increasing number of Haitian migrants, stemming from the 2010 earthquake in Haiti, and most recently, refugees from the war in Ukraine. In addition to people who are trying to come into the U.S. for the first time, there are those who have already been in the U.S. and were deported back to Mexico, as well as asylum seekers who, under the Migrant Protection Protocols, are being returned to wait in Mexico on the outcome of their appeals.
Forced to wait on the bureaucracy of the U.S. immigration system to gain legal entrance into the country, most migrants reside in shelters and tent cities, operated by religious groups or by the government, often with limited facilities and without access to adequate health care and education. Most cannot afford legal representation to guide them through the system, and even if they find pro bono representation, the rate of approval for asylum is very low.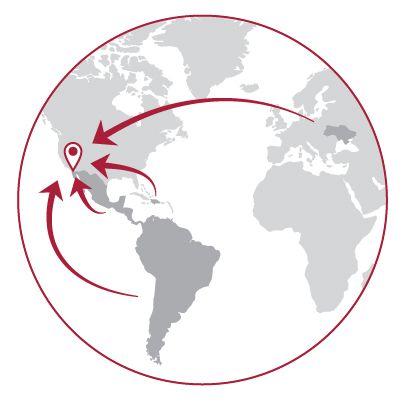 The Violence of Waiting
Rios-Contreras, a criminologist by training, understands how trauma manifests in the migrant experience. People who have faced physical, emotional and psychological violence in their home countries – extortion, kidnapping, violent crime – must endure another kind of violence once they reach the border and are forced to wait.
"It's a very difficult experience, especially for women who bring children and for people of different sexualities," says Rios-Contreras, noting that Mexico perpetuates many patriarchal values. Men might try to find work, but without documentation they can only work illegally. Children are unable to attend school. Migrants often also face violence from Mexican authorities.
It's no wonder that some people attempt the border crossing without authorization. The trip carries risks, whether migrants cross through the desert or by swimming north through the Pacific Ocean.
During one of Rios-Contreras' most recent trips to the border, a migrant crossed at the site where she was working. "The whole community sort of stopped," she says. "There was a pause in the air, just observing a migrant crossing the wall through undocumented means. And then the Border Patrol came and detained the person as they were trying to claim asylum."
More than once, Rios-Contreras has had participants tell her that their first encounter with the United States was with a border enforcement officer pointing a gun at them. "Gun violence is
one of the reasons why they left their country in the first place. They've traveled thousands of miles, whether walking, through car rides, through bus rides, through flights to get to Tijuana, where they finally crossed the border into the United States. The first welcome that they get is an official pointing a gun at them," she says.
"I had a mother who told me that she was scared for her children. She really thought the border enforcement officer was going to shoot her children and her. Then the question becomes, was this migration worth it?" says Rios-Contreras.
Teaching About Violence, Understanding Humanity
Chapman is just over 100 miles from Tijuana, which makes it an ideal location for the study of the migrant communities that live there, not just for faculty members like Rios-Contreras but for students as well.
"Part of my research also has to do with understanding violence and teaching my students at Chapman University how we do that in an ethical way," says Rios-Contreras. "How do we go and study people in their most unfortunate place in life? How can we understand their experience with a little bit of humanity as a researcher?"
In spring 2022, a speaker series brought migrant-rights defenders to campus virtually, and students from her "Refugees and Migration" course participated in a field trip to the border crossing station in San Ysidro, where they witnessed first-hand the physical barriers that stand between would-be immigrants and the U.S.
"It was important for me to see ... this border that has been talked about for so long, what it represents and looks like," says Socrates Mbamalu (MA '23), a graduate student in the Chapman War & Society program. Mbamalu was surprised by the immensity of the physical barriers separating the U.S. from Mexico. An immigrant from Nigeria, he has often traveled across borders in West Africa, but he has never seen anything comparable, he says. "You can't just get into the U.S. You have to show a valid reason for your existence," he says.
"As an immigrant, I don't like being at the border," says Montserrat Bugueno. (MA '22), who is originally from Chile. Bugueno has made the border crossing at Tijuana multiple times with her family to renew visas. "It's very nerve wracking. I don't like it. I know that I have everything to be here legally. It's just the fact that when you're there, when you are not American, they make you feel that you're not American," she says.
Rios-Contreras hopes that the course and class trip are just the first steps to helping Chapman students take advantage of the university's proximity to the border. "I think in terms of internships, volunteer opportunities, or just class field trips. I really want to develop this relationship, and just symbolically build a bridge between Tijuana and Chapman University."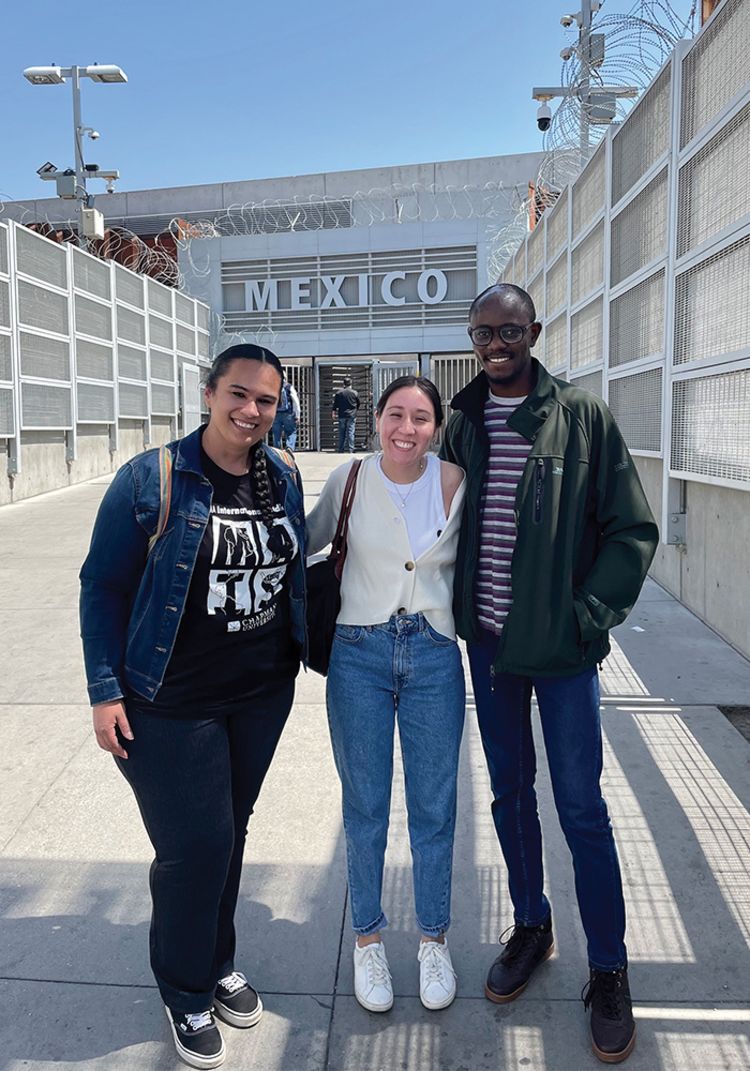 LOCAL INSPIRATION, GLOBAL IMPACT: Explore the many ways that diverse campus and alumni communities are turning local inspiration into global exploration and impact in the latest issue of Chapman Magazine.
This custom content is sponsored by Chapman University and developed by Inside Higher Ed's sponsored content team. The editorial staff of Inside Higher Ed had no role in its creation.