How This University President Has Kept Enrollment Strong During the COVID-19 Pandemic—While Pivoting Towards the Future
With a Commitment to Diversity, Hands-On Learning, and Student Support, Marymount University Is Poised to Thrive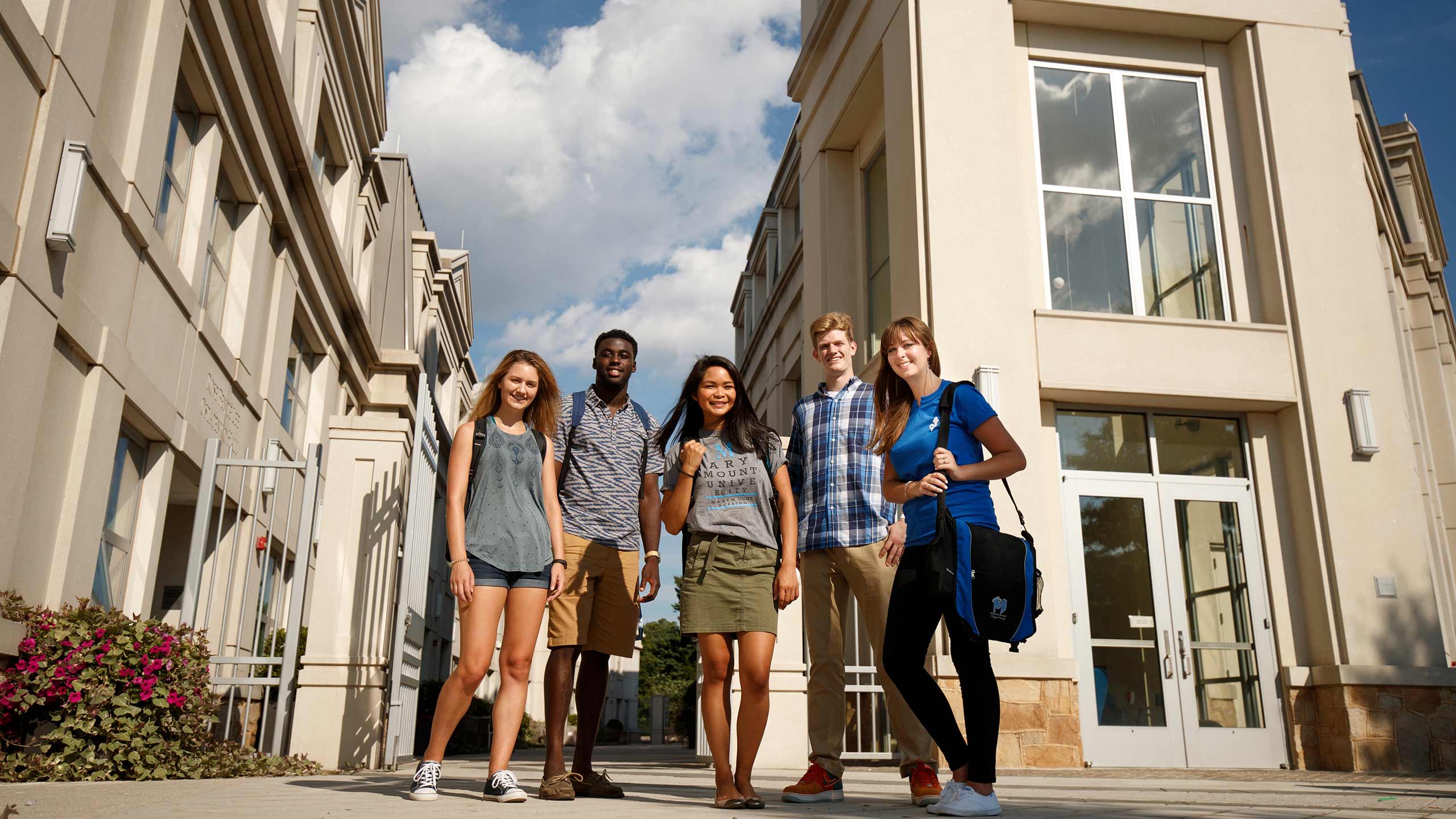 Marymount University students hail from 45 U.S. states and 78 countries. Credit all media: Marymount University.
Marymount University students hail from 45 U.S. states and 78 countries. Credit all media: Marymount University.
Dr. Irma Becerra still remembers—with some disbelief—her first day as an undergraduate in the late '70s, when her university's president addressed the incoming freshmen by saying, "Look to your left, look to your right—only one of you will graduate." 
"That has been the expectation," says Becerra, now the president of Marymount University, a comprehensive Catholic institution in Arlington, VA. "Nationally, only 50% of students who start college finish. That is a travesty. What's happening to the half that's not graduating?" Becerra, who joined Marymount in 2018, is committed to ensuring that every student who starts at her school graduates. Given Marymount's distinctive history of out-of-the-box thinking, its embrace of diversity and student support systems, its practical education underpinned by the liberal arts, and its rising national profile, Becerra is well-positioned to make good on her pledge. 
Founded as a two-year career-prep college for women in 1950—right as women were being pushed out of the workforce by the return of WWII soldiers—Marymount has evolved into a co-educational institution offering undergraduate, graduate, and doctoral programs ranging from nursing to cybersecurity to criminal justice. "Our degrees tend to be very important for the D.C. region, but also for the nation," says Becerra. "That's why our students are highly sought after, and why half of our graduates stay in the area; it's a very vibrant job environment."
Under Becerra's leadership, Marymount is poised to thrive in the coming decade. I recently talked with her about the innovative ways the university prepares students for the 21st century's in-demand jobs. We also discussed how her training in crisis management and engineering—in 1994 she became the first woman to be awarded a PhD in electrical engineering at Florida International University—has helped Marymount meet the challenges of COVID-19 and keep its enrollment stable even as other colleges suffer drastic dips. And with a nod to Marymount students' creativity, Becerra explained how her school's commitment to hands-on learning extends to the students who live—quite intentionally—at the scene of a crime.
Marymount recently restructured into three new interdisciplinary colleges. How will that benefit students, faculty and the school's overall mission? 
Some of the most important and difficult problems that society faces today, like global warming and pandemics, require interdisciplinary thinking to solve them. Our students have always managed to major in X while doing minors in Y and Z, thereby creating their own interdisciplinary course of study. Now we are purposefully doing that by reorganizing the academic structure in each particular college.
Another way we have pursued interdisciplinary education is through the creation of stackable certificates that allow you to design your own master's degree, at your own pace. For example, we have stackable certificates in cybersecurity, data science, project management, intrapreneurship, and leadership. You can pick three of these and they stack up to a master's degree. Or you could earn a certificate in palliative care that could stack up with other certificates towards a master's in health care innovation. Even across colleges, you can stack up certificates, so it creates an opportunity for our students to design their own master's degree in ways that give them the most flexibility, depending on what their interests are, or how those interests change. I think flexibility is going to be key for students going forward.
Marymount was one of the first universities to include internships as a graduation requirement. What are other ways you use hands-on training to educate students for key growth industries? 
The hallmark of the Marymount experience is that we offer a practical education grounded in the liberal arts. In 1950, the University was founded to educate women for work. While we became coeducational in the 1980's, we still build on the tradition of preparing students for careers, and help them find their purpose in life. We've built experiences into our curriculum that allow them to learn in a hands-on way.
A few examples: Our physical therapy program shares a facility with MedStar, a local health care organization. So patients who come to MedStar for physical therapy are often seen by our students who are doing their clinical training. The nursing students have a lab full of very expensive computer dummies that are used to teach nursing. These dummies also serve as victims of crime in our crime lab. Our criminal justice students all live around a crime lab that's an ever-changing crime scene, which gets very interesting around Halloween!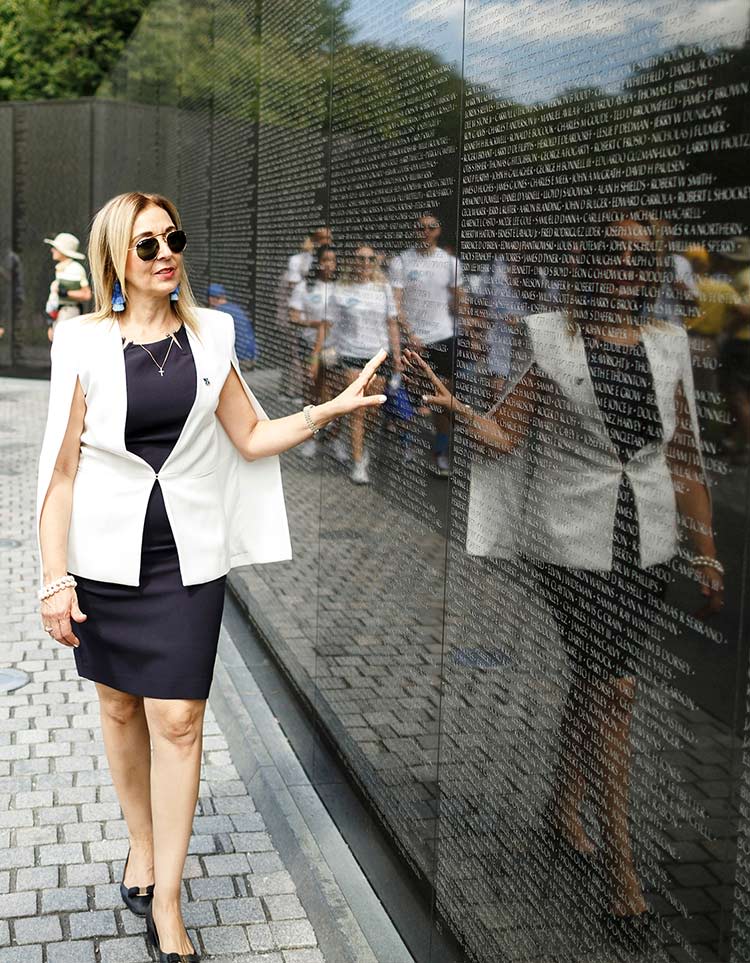 Marymount by the Numbers
#1 most globally diverse regional university in the South
#2 most ethnically diverse regional university in the South
6 miles from Washington, D.C.
12:1 student-to-faculty ratio
19 NCAA athletic teams
Students hail from 45 U.S. states and 78 countries
100% of programs require internships or clinical experience
Founded in 1950 by the Religious of the Sacred Heart of Mary (RSHM)
Sources: Marymount University, U.S. News & World Report
How is Marymount strengthening its commitment to diversity?
Our student body is incredibly diverse—20% Hispanic, 15% Black, 7% Asian, and 13% international, representing 78 different countries. We're considered an emerging Hispanic-serving institution, the only one in Virginia. We also have a large population of students who are undocumented. We have a partnership with TheDream.US, the foundation that is seeking to give students who are DACA recipients the equivalent of a Pell grant. It's part of our commitment to supporting pathways for students—no matter their race, faith, or status—to gain an education. It's our mission at Marymount.
We have also invested in wraparound student support services. It can be very complicated to navigate all the nuances of the university, especially for first-generation students. So our students sign up for a personal advisor who leads them through the maze of college. I personally make a commitment to every student who comes to Marymount that if they do everything on their part, we will get them to graduate in four years.
How has Marymount embraced online learning, especially as it relates to delivering fully online degrees?
We started offering fully online programs this fall: a doctorate in education, which has a focus on leadership and innovation, and two offerings in nursing: a master's and a doctorate. For the latter, students can enter through multiple tracks. We offer options for students who need to start by fulfilling graduate requirements from a bachelor's level as well as those currently holding a master's in nursing degree.
In Fall 2021, we're set to offer an online option for our accelerated second degree bachelor's in nursing program as well. So if you have a bachelor's degree in, say, history, and now you want to make a career change and become a nurse, you can achieve this through an intensive nursing curriculum over 15 months.
We're also planning to offer more programs fully online, such as our transitional Doctor of Physical Therapy and transitional Doctor of Occupational Therapy programs. These are designed more for the working professionals who want a Marymount education but, because of work or family responsibilities, find it impossible to get to campus.
What about remote learning?
I like to make the distinction between online and remote education. Online assumes that you have a professor and thousands of students taking the class in asynchronous mode. When COVID-19 emerged, we maintained our twelve-to-one student-to-faculty ratio in our classes that were taught synchronously at a distance. We successfully pivoted to remote education in about 700 courses, and we graduated over a thousand students at our virtual commencement. The difference is that with remote learning, students can still reap the benefits of our small classes—they're learning together in real-time with their professors and it's still an interactive experience, despite the virtual format.
But when we surveyed students, they said they did not learn as well remotely as they did face-to-face. That was really an 'aha' moment for me. For years, industry analysts have been telling us that the great American university as we know it is going to disappear and all higher ed students are going to be learning online. As a former knowledge management researcher, I know there's a lot of learning that happens in what we call a tacit-to-tacit knowledge exchange. When you are embedded in an educational environment, especially one as diverse as ours, you learn different perspectives from your professors and your colleagues, even things that aren't being said explicitly. Our traditional learning environment is so rich that it would be hard to replicate it in a remote format, despite our small class sizes.
Fully Online Programs at Marymount
Sources: Marymount University, Keypath Education, Rehab Essentials
How have you brought students back to campus—and kept everyone safe?
When the students made it clear that remote learning was not going to cut it for them, we decided we needed to come back in a face-to-face and hy-flex (hybrid-flexible) format, even if it looked different than what we had before. I'm trained in crisis management, as are several of my colleagues. We know that in managing through crises like earthquakes and hurricanes, frequent collaborations and the ability to pivot are important. We created a COVID-19 task force that has met more than 80 times to help our cabinet make decisions—and quickly revise decisions when the first plan isn't working. In engineering, we call that rapid prototyping. 
We completely restructured the places where we work, where students live, eat, and learn. Students are required to wear masks at all times unless they are alone in their dorm rooms, which are all singles. We have a health monitoring app and a contact tracing app. We bought a rapid-result testing machine. In some classes, we've had to split the class so half takes it one day and the other half takes it the next. Only 20% of our student body chose to take classes remotely; 80% wanted to be back here on campus. When I was greeting parents and students as they arrived on campus in August, the students were so happy to be back. The parents were even happier!
I think our ability to return face-to-face—and be nimble about how we go about it—is a big reason our enrollment has remained stable while other institutions are experiencing big drops. One thing we've learned is that the organizations that can pivot quickly are the ones that will thrive during and after COVID-19.
---
This content was paid for by Marymount University and produced by Inside Higher Ed's sponsored content team. The editorial staff of Inside Higher Ed had no role in its preparation.
---