Why LMS Migration Requires an Archiving Strategy
The hidden catch that can prove expensive for university technology administrators when they switch learning management systems and how to avoid it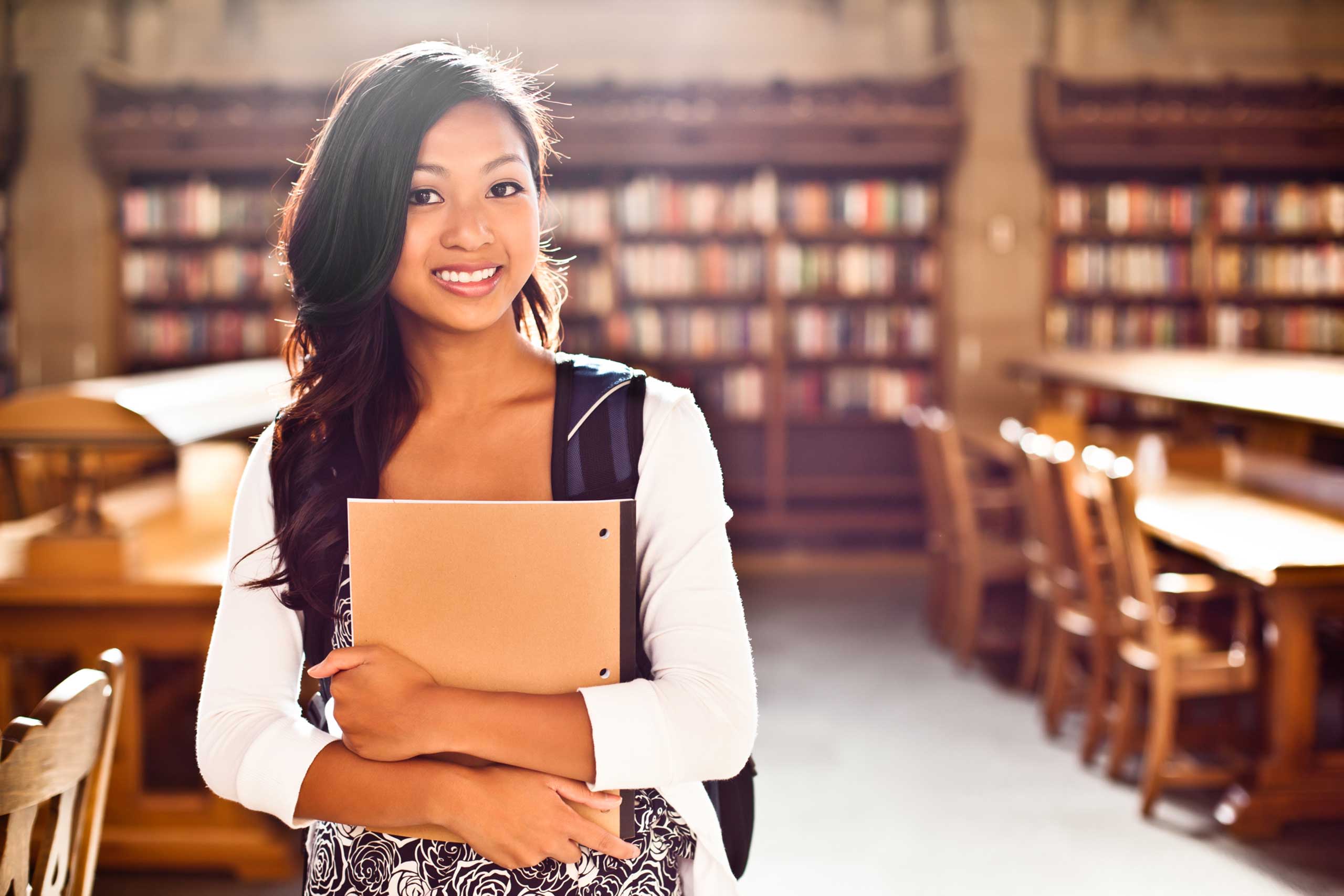 Why LMS Migration Requires an Archiving Strategy
The hidden catch that can prove expensive for university technology administrators when they switch learning management systems and how to avoid it

Custom content sponsored by K16 Solutions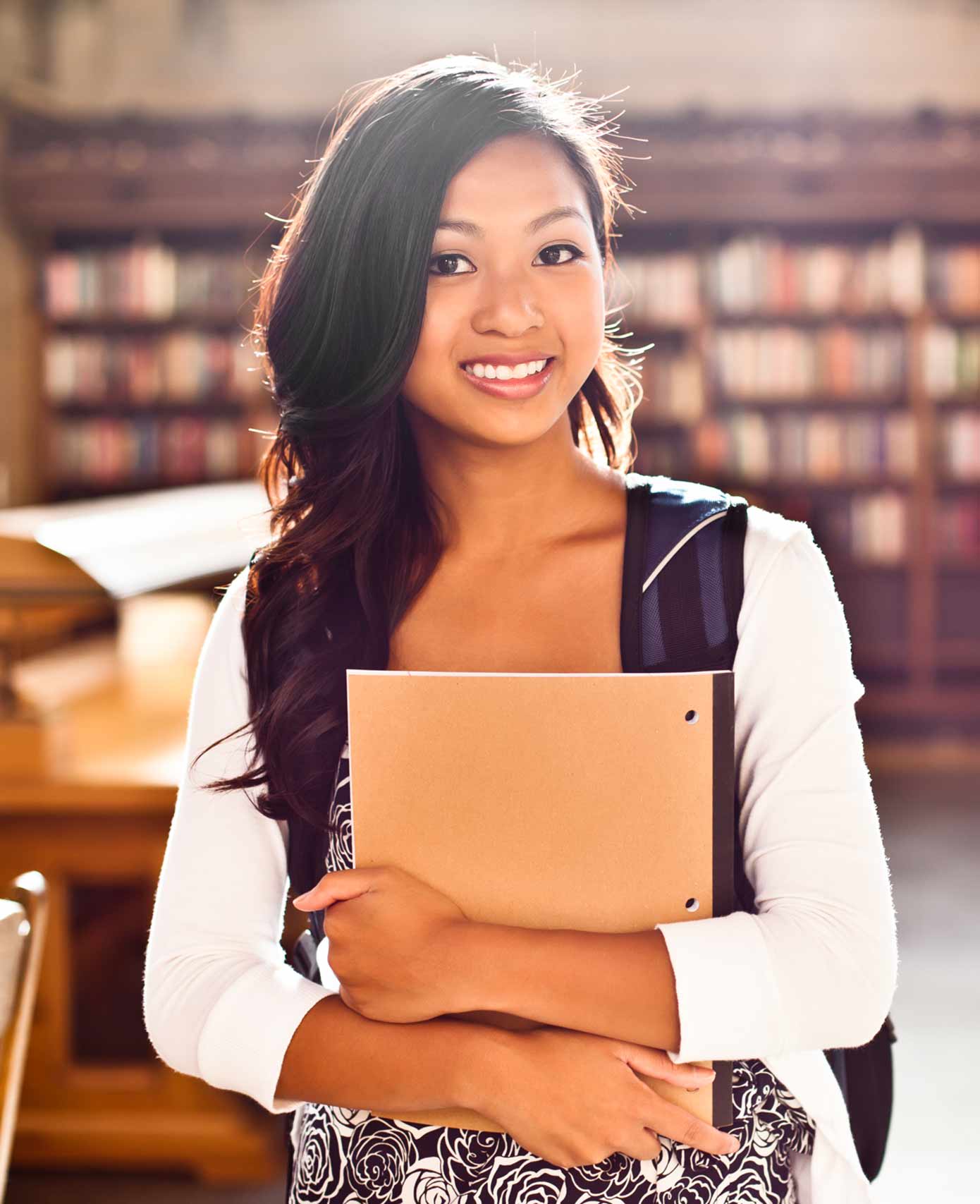 When universities migrate from one learning management system to another, they often assume they will be leaving their legacy provider behind for good. That may not be the case.  Most institutions soon realize that they will need to archive student and course data on their legacy LMS–usually in a read-only version.  All while continuing to pay their old LMS provider upwards of $100,000 a year, just to archive the data and maintain its accessibility.
These archiving costs could end up ballooning beyond $1 million, depending on data retention mandates, which can vary by institution, state, and country. "As universities consider switching LMS providers, course archiving should be a critical part of their strategy," says Sam Yaghoubi, Vice President of Client Success at K16 Solutions. "Appropriate planning can help institutions save time, money, and headaches of solving for archiving on the backend," he added.
Even institutions that are not in the throes of migration should consider an archiving strategy, as many keep their course data in so-called "cold storage," or offline in a solution that is not always easily accessible or easy to read on demand. "When former students or other institutions request course data, accessing it from a zip file somewhere can be a nightmare," says Yaghoubi. "It's often needed in a time crunch, and since pulling archived data is rarely in someone's primary job description, it can feel like a tedious fire drill."
Archiving Requirements Vary 
Institutions and local governing jurisdictions require universities to maintain access to online course data for as many as 11 years. These requirements are meant to protect both the institutions and students in cases when students want to challenge prior grades. "If universities can't support the grades they have given students, it becomes not just a data integrity issue but an academic integrity issue," says Yaghoubi. In some cases, post-graduate students may even require access to prior coursework to support current research or for other employment purposes. "If they can't get that data, it puts them in a real bind," he says.
You can't take it with you
Once an institution ends its relationship with an LMS provider, it may no longer have access to the platform required to open and read content. To solve this issue, universities have typically chosen between two options. The first is to maintain a contract with their initial learning management system provider to archive older course data until the time period has expired, which can be both costly and awkward.
The other option is to maintain the data in offline or "cold" storage. That comes with its own drawbacks; the data is often in a format that's difficult to decode, read, and make available for any queries. "There's no interface, it's just data, and utilizing it or presenting it in a useful way can be challenging," says Yaghoubi.  "You have to search through reams of data to find what you need—and hopefully, it can be pulled out and used."
New demand for archival services
K16 Solutions' Sam Yaghoubi noticed universities grappling with this challenge early in the year as they helped institutions migrate from one learning management system to another using their Scaffold Migration solution. After a few clients had expressed frustration with the lack of options, K16 decided to develop its own product, Scaffold Archiving. By February, Yaghoubi said the company had 10 clients interested in archiving —by the middle of the summer, another 20 had asked for the service. And now, K16 Solutions is partnering with Instructure to provide all existing Canvas customers with a state-of-the art archiving solution.
Learn more about how K16 Solutions & Instructure have teamed up to make archiving for Canvas customers easier, integrated, and more affordable.
UNIVERSITY TESTIMONY: Loyola New OrleansLoyola University New Orleans turned to K16 for support in archiving after working with them on migration.

"We had a tremendous experience working with the K16 Solutions team in helping us migrate from Blackboard to Canvas," says Dr. Carol Ann MacGregor, Vice Provost at Loyola. "So when we heard about the savings and benefits of archiving student data on their platform Scaffold, we jumped at the chance. We can now use those cost savings for other critical areas within our operations or academic departments."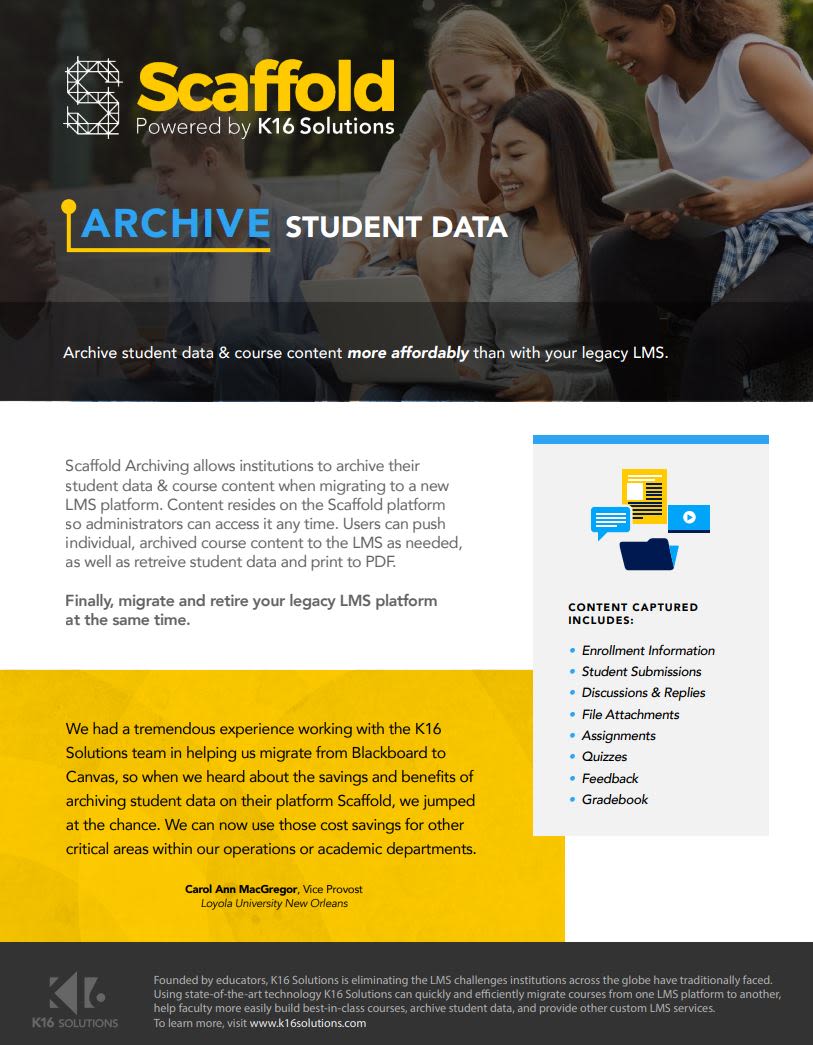 Archive course content and student data more affordably than with your legacy LMS. Get the data sheet.
K16 Solutions' interface is similar to a typical learning management system. Administrators can search for data using course IDs or student IDs. Once the data appears, they can view assignments and submissions and run reports. "It's as if you have your old LMS up and running in the background but are paying a tiny fraction of the cost," Yaghoubi says. An added benefit: Scaffold is already integrated with the university's new learning management system. Student data remains secure and completely under the university's control, and course data can be easily pushed to the new LMS when needed.
The process is simple, Yaghoubi says. Universities identify the date range and courses for the data they would like to archive and provide K16 Solutions with access and credentials. K16 then uses its Scaffold platform to pull the courses off the existing learning management system and creates new credentials for the university to use when accessing the data. The team can typically archive 40,000 to 50,000 courses in 3 to 4 weeks. 
University clients say they're pleased with the results.
---
"The content can easily move from Scaffold Archiving back to Canvas. We don't have to download a cartridge and clean it up later on. Instead, we simply find the course, click a button, and it goes from Scaffold right over to Canvas. Our archive is now its own version of an LMS where we can easily move content to and from Canvas and Scaffold."
-Abram (Abe) Hedke, Director of Instructional Technology at St. Mary's University of Minnesota
---
"At the end of the day, this archiving system gives universities ready access to their content in an easy-to-use interface that's similar to a learning management system," Yaghoubi says. "It's not only easier to use than cold storage, it's also far more affordable than continuing to pay their legacy LMS provider."
---
This content was paid for by K16 Solutions and produced by Inside Higher Ed's sponsored content team. The editorial staff of Inside Higher Ed had no role in its preparation.
---