Training Healthcare Professionals for A Diverse World
New York Institute of Technology is ensuring that the next generation of physicians and healthcare professionals can address the most pressing needs of increasingly diverse communities.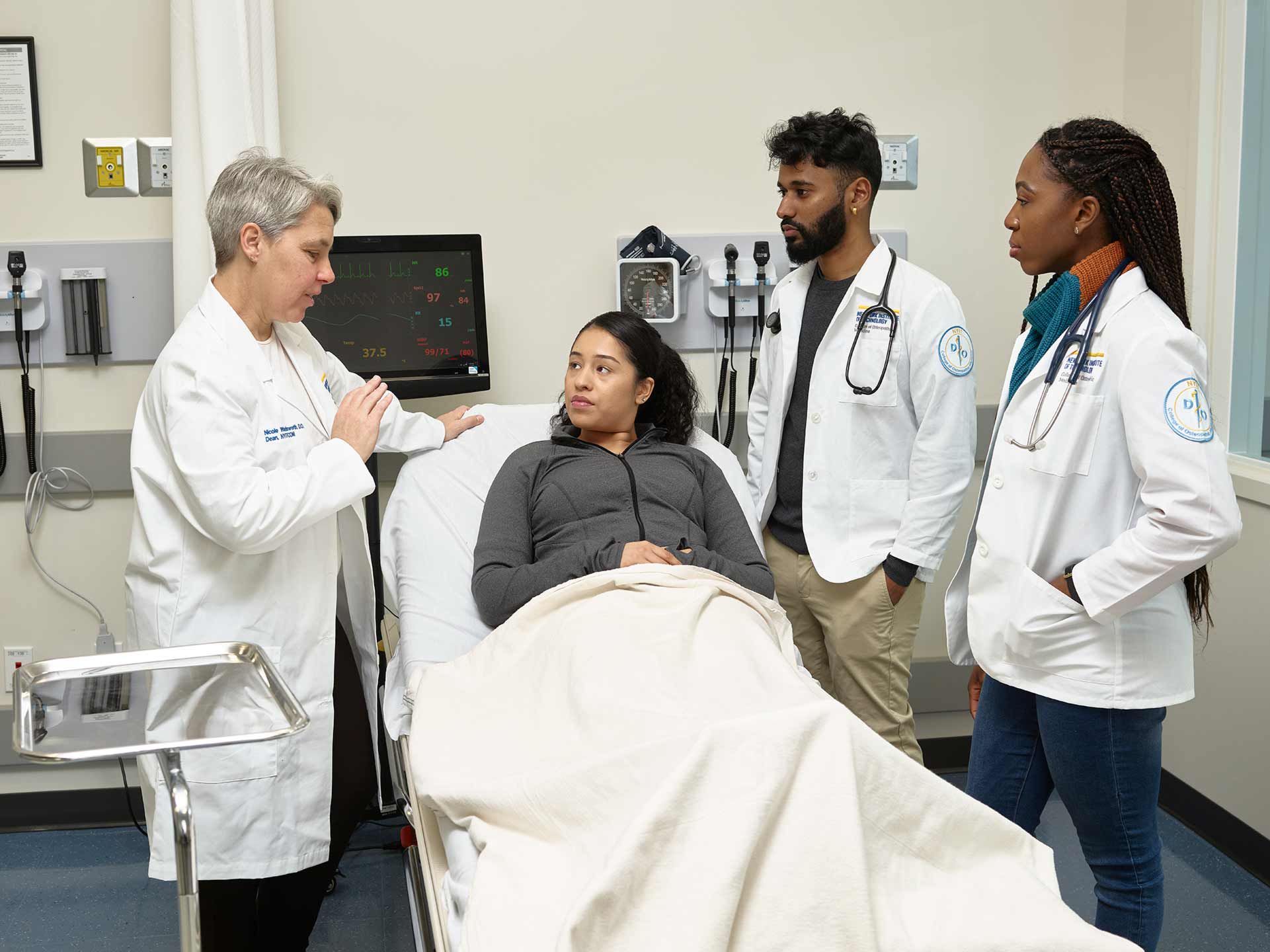 The United States is a nation full of diversity—of race, ethnicity, ability, and sexual and gender orientation—and it's growing more diverse every year.
Caring for this population will require strategic approaches in medical and health education that are more inclusive than ever before. New York Institute of Technology is one institution that recognized this need early on and is taking vital steps to educate the next generation of physicians, nurses, occupational therapists, physical therapists, physician assistants, clinical nutritionists, and exercise science professionals.
New York Tech's medical and health professions schools have introduced innovative new programs and initiatives designed to produce a workforce fully prepared to address the societal and medical challenges of increasingly diverse communities.
A key step toward achieving this outcome is acknowledging bias, said Nicole Wadsworth, D.O., dean of New York Institute of Technology College of Osteopathic Medicine (NYITCOM).
"Bias is part of the human condition, but if we learn about bias and the behaviors associated with it, we can be more open and understanding of different people's experiences," Wadsworth said. "In turn, this allows us to provide more comprehensive, compassionate care for our patients."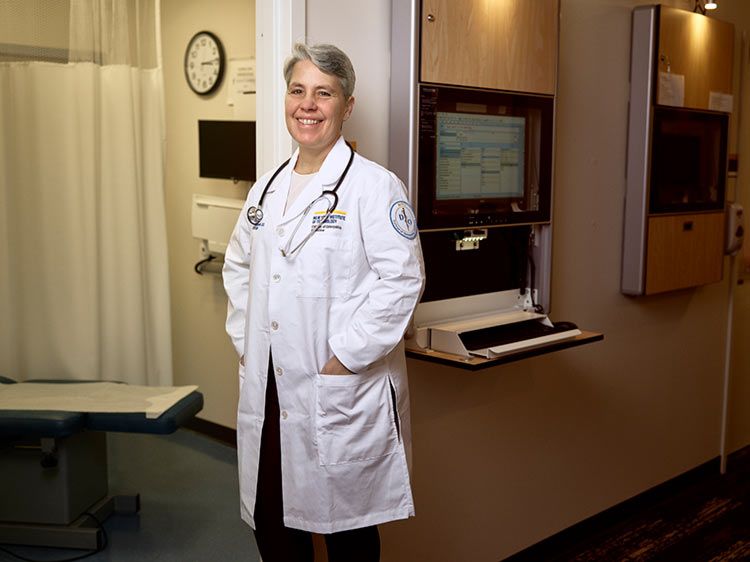 A commitment to inclusion
NYITCOM was founded on New York Tech's Long Island campus in Old Westbury, New York in 1977. Nearly four decades later, it opened a second location in northeast Arkansas, cementing its commitment to inclusion and meeting the needs of underserved communities.
Locating NYITCOM-Arkansas in Jonesboro, on the campus of Arkansas State University, was intentional. Arkansas ranks low among states in terms of the number of physicians, and its health indicators are among the worst in the country. New York Tech knew it could help train and supply the physicians that this medically underserved region so desperately needed.
Medical students who are exposed to rural medicine are more likely to later practice as physicians in rural and underserved communities. To prepare graduates to help meet the region's demand, NYITCOM-Arkansas requires all students to complete a four-week rotation in a rural area. Most third- and fourth-year rotations are done in community hospitals, and graduates receive a certificate in population health.
NYITCOM's newest offering is a master's degree program in public health. Launched last fall, this online program trains future healthcare administrators and policymakers to battle epidemics and natural disasters, eliminate bias in healthcare, and address disparities caused by social determinants of health—factors that can affect the health of an entire community, such as quality of housing and education and access to food and medical care.
Addressing bias is a growing focus at both NYITCOM locations, with an evolving curriculum that includes anti-bias training. Outside speakers and even a new book club address diversity, equity, and inclusion (DEI) topics. In addition, a new DEI task force seeks to make NYITCOM's admissions and curriculum even more open and inclusive.
One regular DEI practice is called "clinical practice reflections," where students observe a physician interact with a patient and then write a narrative about the experience. In one recent reflection, Wadsworth said, the patient was a transgender woman with heart issues, which gave students crucial insights on the issues of both cardiac health and gender identity.
"To provide good care, you have to ask questions and understand your patients' experiences," Wadsworth said. "I think these types of experiences provide that for students first-hand and ultimately will make them better clinicians."
Serving diverse communities
New York Tech makes other targeted efforts to serve diverse communities.
In 2021, its School of Health Professions was awarded a $200,000 New York State grant to develop a new program to help meet Long Island's short- and long-term workforce needs. The New York Tech Healthcare Service Training Project provides tuition-free training to veterans, young people with autism spectrum disorder, and under- and unemployed people interested in healthcare careers. Graduates are certified in one of five areas, including home healthcare aide and medical coding.
"These are entry-level certificates, but it gets people into a university environment," said Gordon Schmidt, Ph.D., dean of the School of Health Professions. "Who knows where these certificates might lead them."
NYITCOM also is engaging the external community. For example, an afterschool program encourages high school and middle school students from underserved Long Island communities to pursue careers in medicine, science, and other high-tech fields. Similarly, NYITCOM-Arkansas runs a summer camp that allows high school students to explore healthcare careers and potential educational paths available to them after graduation.
In 2019, NYITCOM-Arkansas also rolled out the Delta Care-a-van. This 40-foot mobile medical unit visits remote communities throughout northeast Arkansas and the Mississippi Delta region, many of which have little access to medical care. Medical students and residents perform health screenings, provide health education, and refer patients for follow-up care. During the pandemic, the Care-a-van also served as a mobile COVID-19 vaccination clinic.
The Care-a-van is intended to help area residents live healthier lives. But Wadsworth said it also provides an invaluable—and eye-opening—clinical experience for medical students, especially those from more privileged backgrounds. The experience allows future physicians to understand patients who look and live differently than they do, as well as the communities in which they live.
"I think it's a great opportunity for students to see healthcare in a very different setting than the traditional hospital or clinic setting," Wadsworth said.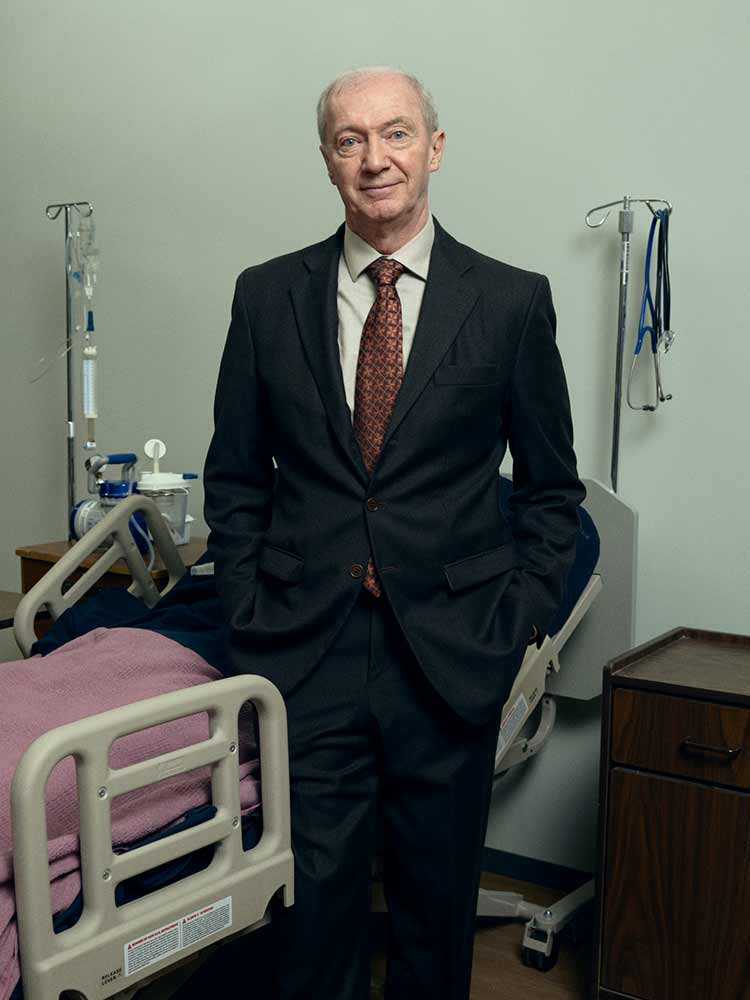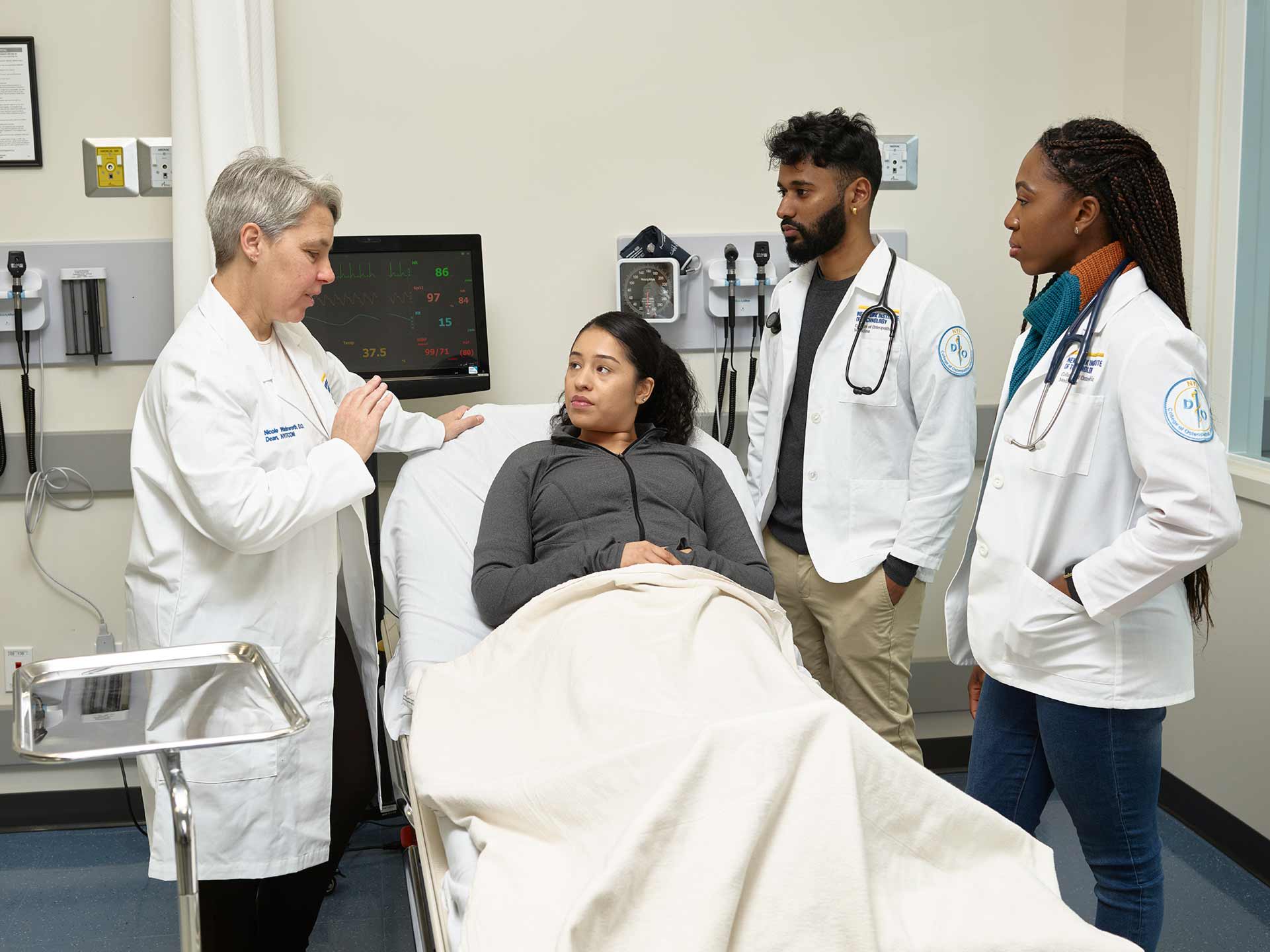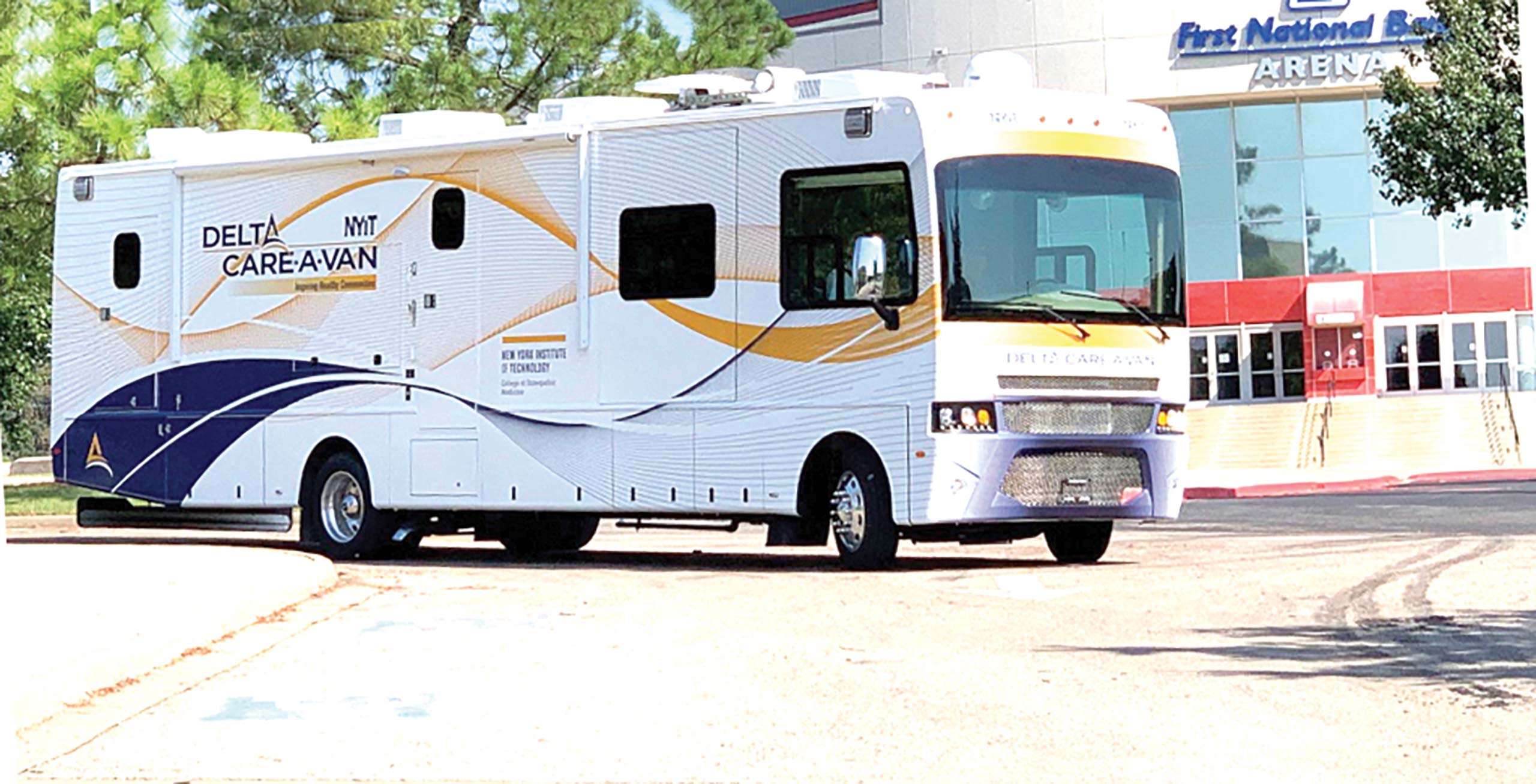 Making room for DEI
One challenge for NYITCOM has been figuring out how to include DEI education in an already jam-packed medical curriculum. Wadsworth said these lessons are too important to leave out.
"In my mind, DEI is a critical component of students' education—absolutely just as important as immunology or anatomy," she says. "Diversity issues, cultural competency, and population health carry as much weight as any other medical school subject."
As the nation grows ever more diverse, this kind of training will become even more important than it is today.
"If you can be well-spoken about a broad group of individuals, whichever minority or marginalized group they find themselves in, you're likely able to have conversations that are inclusive across the board," Wadsworth said.
"It's an evolution. We have to continue to educate ourselves for these patient populations."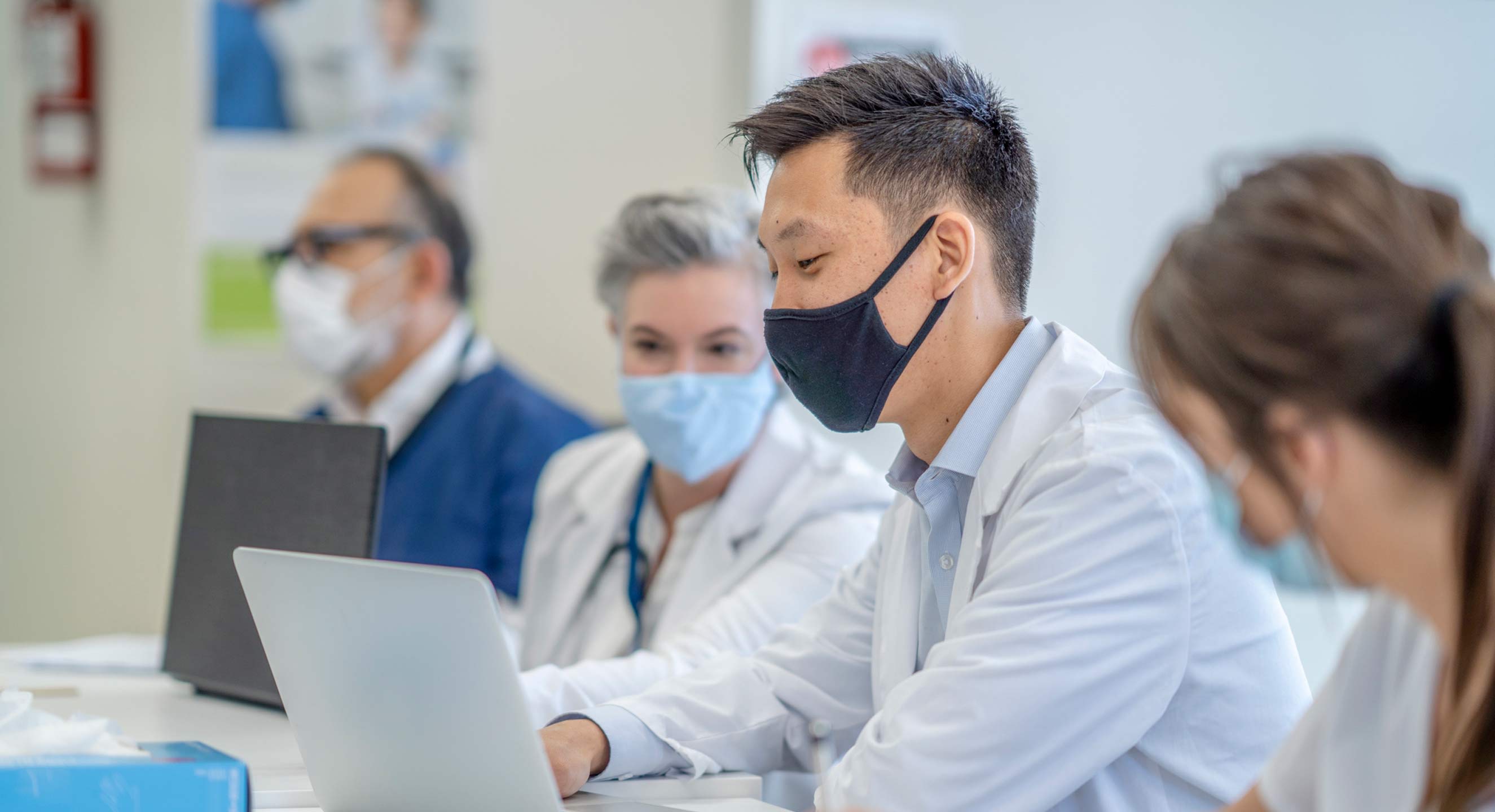 A unique opportunity for foreign-born doctors to practice in the U.S.
Among the one million or so new immigrants to the United States each year are physicians who had practiced in their home countries. But because they're unfamiliar with the American healthcare system and its requirements, many can't pass their licensing boards despite their training and skill.
NYITCOM is the only U.S. medical school to offer training specifically to these talented doctors. The Émigré Physicians Program admits a class of qualified physicians annually to the four-year, full-time doctor of osteopathic medicine (D.O.) program on New York Tech's Long Island campus.
NYITCOM Dean Nicole Wadsworth, D.O., said these foreign-born and -trained physicians graduate and gain medical residencies at the same rate as the school's traditional students. They also provide a welcome diversity of age, experience, and geography.
"We've had some incredibly trained and skilled individuals," Wadsworth said. "That makes the class richer."
This content was paid for by New York Institute of Technology and produced by Inside Higher Ed's sponsored content team.
The editorial staff of Inside Higher Ed had no role in its preparation.