Pivoting Through the Pandemic
How Rice University safely welcomed back students — physically and virtually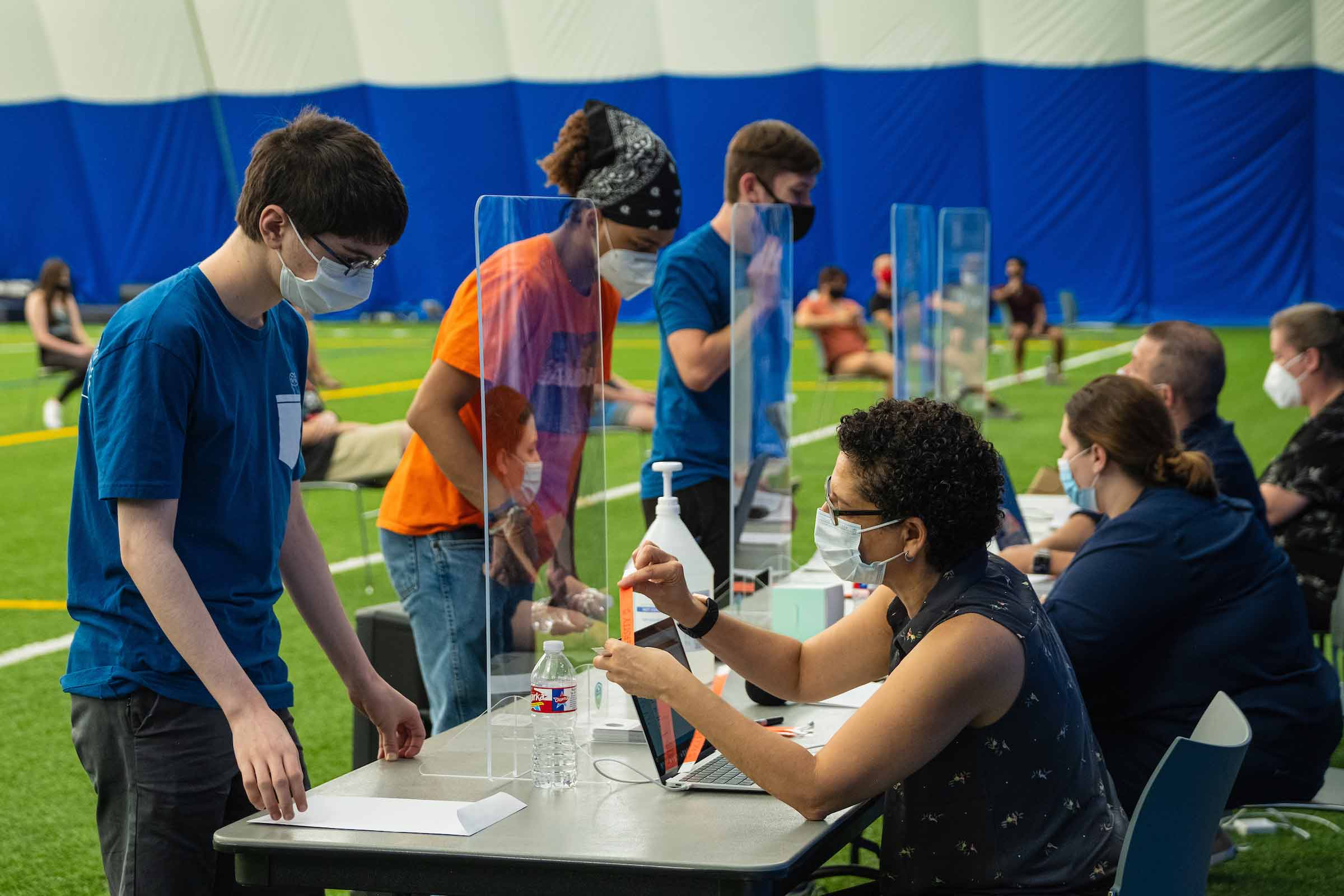 After COVID-19 affected every aspect of higher education last year, institutions were tasked with quickly mobilizing resources and developing unconventional strategies to continue safely carrying out their missions. In the midst of a relentless pandemic, Rice University in Houston, Texas, developed new capabilities on how to deliver education, create community and conduct research that will continue to serve students in a post COVID-19 era.
In spring 2020, Rice University rapidly converted to remote learning and closed down or severely limited campus activity in response to COVID-19. After a summer spent carefully designing a number of safeguards to adapt to a pandemic reality, Rice opened its physical and virtual doors to a hybrid mix of online and classroom instruction — embarking on a fall semester like no other.
Focused on protecting the health, safety and wellbeing of every member of the community, Rice was ready for the return of about 40 percent of undergraduates to live on campus through mask and physical distance mandates, hand sanitizing stations and a reduced capacity of in-person classes.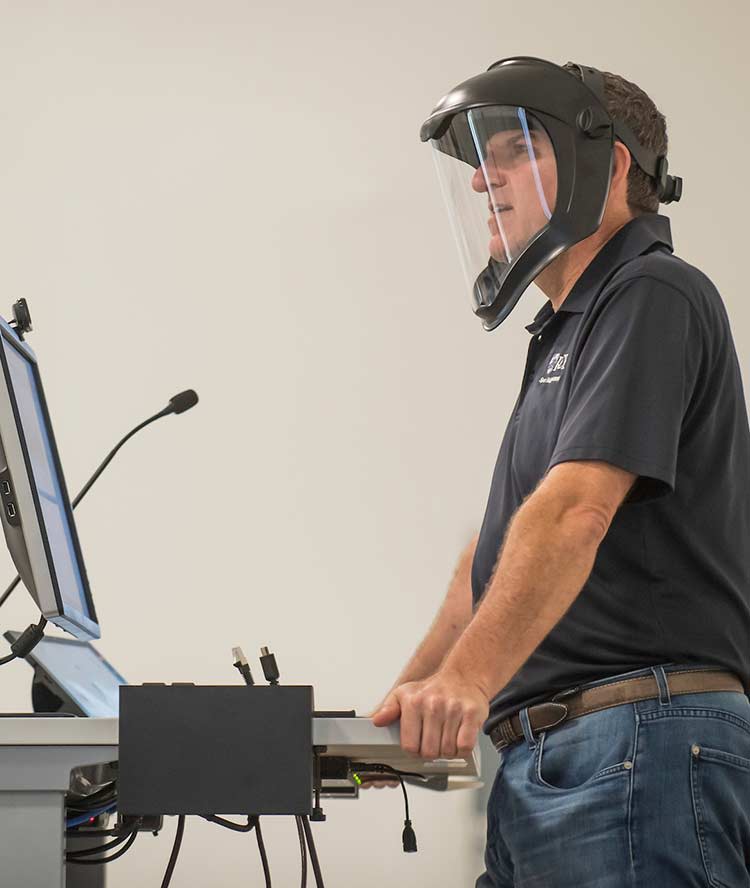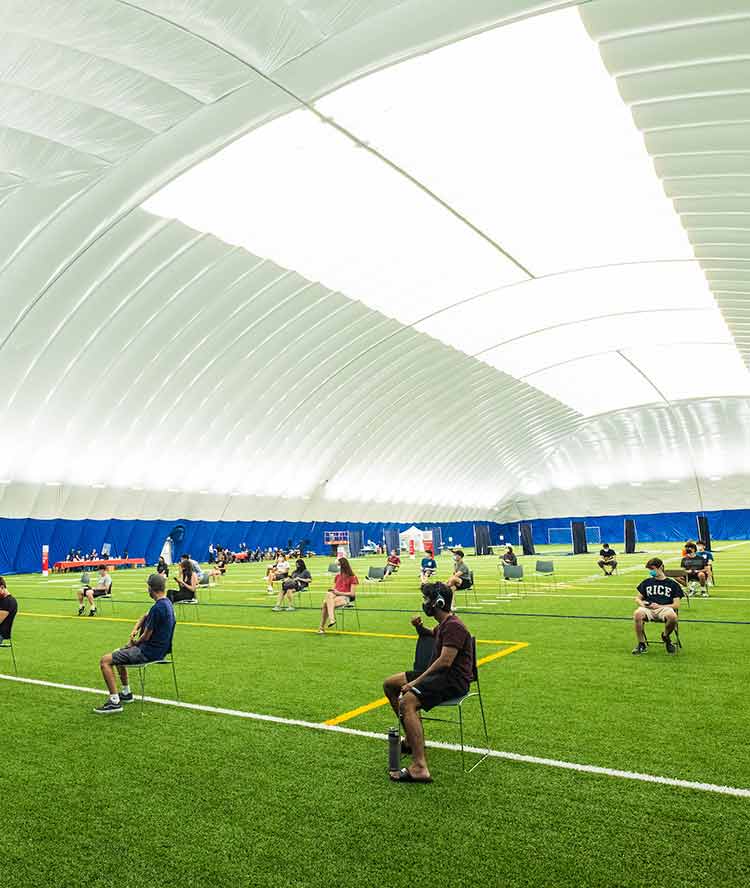 Rice relied on adaptability and monitoring to navigate constantly changing circumstances. This resulted in calendar changes, such as a condensed semester calendar, and eliminating traditional breaks in favor of off-days sprinkled throughout the semester. The university also contracted with health care providers to administer nearly 80,0000 COVID-19 tests throughout the fall 2020 semester. In December, Rice University President David Leebron announced in his 2020 State of the University address that the campus concluded the semester with an extremely low positivity rate of 0.15%.
The safe return to Rice University was a carefully crafted collaboration between students, faculty and staff — from constructing outdoor structures and designing a robust testing strategy to tapping public health ambassadors and safeguarding a new dining experience.
Rolling out testing
Before moving onto campus for the fall semester, every student was acquainted with a routine they would soon become very familiar with — COVID-19 testing. Every new and returning Rice student underwent rapid testing before moving onto campus to ensure a healthy student population. Hundreds of tests were performed over a two-day period, which was coordinated by Rice's crisis management team (CMT).
With a background in public health, disease management and infection control emergency response, Jerusha Kasch, Rice's director of institutional crisis management, was as ready as anyone could be to take on the logistics of reopening Rice to students. Her core team of nearly 60 people worked in synchronicity, checking in students and moving them along from testing stations to a giant waiting area to, finally, the desk where they learned their test results.
Throughout the fall semester, Rice contracted with health care providers to test approximately 1,000 members of its community each week. Students, faculty and staff were contacted for testing appointments and could also sign up for testing for any reason. Rice conducted two separate processes: asymptomatic and symptomatic testing. Those who were exhibiting symptoms underwent a special testing process by working closely with Rice's contact tracing team.
Approximately 80,000 COVID-19 tests were conducted on Rice's campus throughout the fall semester, 112 of which turned out positive. Those who did test positive communicated closely with the CMT to prepare an isolation and contact tracing plan.  
Adding outdoor structures
New temporary structures were pivotal in making Rice campus life possible in the fall, while also maintaining physical distance guidelines. Rice added nine structures total, which served as flexible space to accommodate a range of needs — classrooms, meeting spaces and event rooms. One structure served as a commons for a residential college that temporarily served as isolation housing for students who tested positive for COVID-19, while another provided overflow library space to align with restrictions for study room occupancy.
The structures included four Provisional Campus Facilities (PCFs) and five open-sided tents. Each PCF used for classroom learning featured a wide range of technological innovations. The completely enclosed, air-conditioned tents were equipped with speakers and microphones so in-person and remote students could easily communicate.
While class sizes were capped at a limited capacity, students and instructors worked together on a dual delivery schedule — rotating in-person attendance so everyone who wanted to attend physically was safely able. Offering a hybrid instruction made Rice education available to students around the world and allowed students to participate from afar when a class was physically taking place on campus.
Identifying public health ambassadors
An integral component of Rice's undergraduate culture is its residential college system, featuring 11 colleges that have their own dining halls, public rooms, on-campus dorms, student government and array of social events.
Rice relied on the residential college system to employ public health ambassadors — a selection of students from each college who were trained to educate their community about the expectations of students related to COVID-19 and serve as points of contact in the colleges for disseminating information related to the importance of public health. These public health ambassadors were critical in relaying communications and providing on-the-ground feedback.
Streamlining serveries
Reducing touchpoints and avoiding cross-contamination in Rice's dining serveries was an important component of bringing students back to campus. Campus dining staff met the challenge of preparing meals for students during the pandemic by consolidating its six serveries with a plethora of menu options to five kitchens with a reduced staff. A six-week cyclical menu plan offered basic takeout meals in lieu of self-service, buffets were eliminated, and each menu was seasoned with food supply chain issues, including exorbitant tariffs on products such as aluminum foil. 
Student communication was also essential in navigating a safe and satisfactory dining experience. Student feedback resulted in additional menu options and introduced a new dining option, in which online orders could be placed and safely picked up through the campus meal plan.
From panic to possibilities
Many of the new capabilities developed during the pandemic will continue to impact the progress of higher education learning, community and research. Offerings such as virtual student services and hybrid teaching will enhance the accessibility, adaptability and quality of higher education far into the future.
---
This content is sponsored and written by Rice University. The editorial staff of Inside Higher Ed had no role in its preparation.
---