Five Student-Focused Initiatives to Help Schools Weather Uncertainty

From food pantries to leadership programs to virtual career counseling, New York Tech emphasizes communication, collaboration, and community.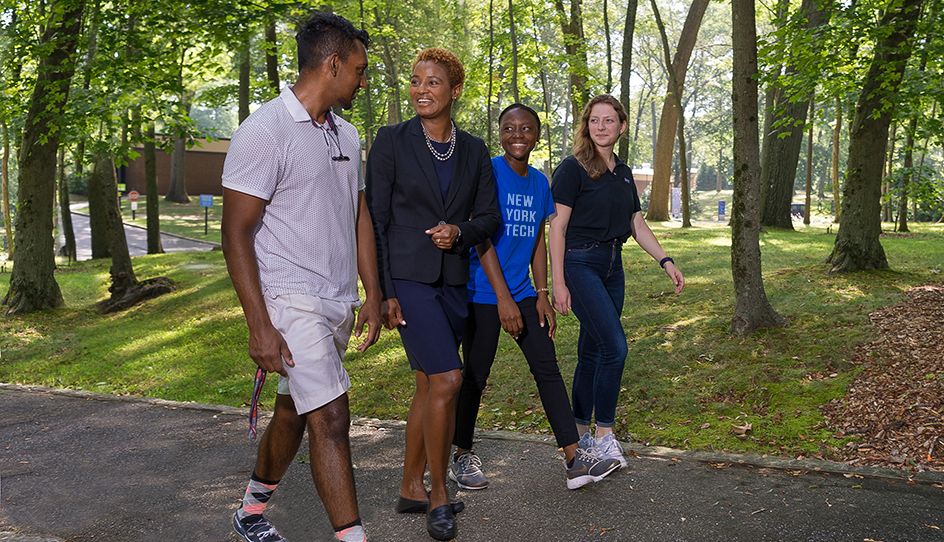 Interim Assistant Provost Tiffani Blake joined New York Tech to help foster a culture change and cultivate student growth and development. Credit: Bill Motzig.
Interim Assistant Provost Tiffani Blake joined New York Tech to help foster a culture change and cultivate student growth and development. Credit: Bill Motzig.
It only takes a few minutes listening to Tiffani Blake speak to guess that she's an optimist at heart. As interim assistant provost for student engagement and development at New York Institute of Technology, Blake's can-do attitude would be useful for getting things done during the most normal of times. In the midst of the COVID-19 pandemic, she has been instrumental in launching innovative student-first initiatives including a food bank, leadership development programs, virtual career counseling, and interactive online programming.
Of course, Blake hasn't achieved all this and more by going it alone. In fact, her dedication to informing, engaging, and supporting students is a reflection of New York Tech's laser focus on communication, collaboration, and community building—a focus that the COVID-19 crisis has only sharpened.
"Part of my whole being when it comes to student affairs is that you can't do it on your own," says Blake, who joined in 2019 as interim dean of students, leading the university's nearly 6,000 STEAM-focused students at its New York City and Long Island campuses. "We have many different touchpoints with our students. Now that we're remote, we see what questions are bubbling up on social media and in emails to myself, the admissions office, our registrar—even to the president. We make sure we're answering all questions. It's more important now than ever."
Putting Students First
Find out what New York Tech experts have to say about keeping students safe and engaged during COVID-19, how the school created an online orientation, and where you can go to learn more.
Pre-pandemic, promoting in-person, co-curricular collaboration
Blake and her five departments work with "pretty much every part" of New York Tech's suburban and urban campuses. They help oversee and coordinate everything from student activities and leadership groups to career services, experiential education, and student programming. Another key initiative: promoting the school's co-curricular approach to expanding the students' classroom experience with non-academic offerings. Pre-pandemic, such initiatives were a powerful—and relatively easy—way to build community and spark student interest through a cross-pollination of ideas and perspectives.
For example, "last fall, we brought in New York State Senator Jamaal T. Bailey to speak about the importance of civic engagement," explains Blake. "Professor Jennifer Griffiths offered her students credit for attending. And for Women's History Month, we partnered with faculty to bring in Carla Harris, a Morgan Stanley vice chairman. She spoke with students about her career, finding balance, and the importance of giving back."
Once the pandemic shuttered both campuses in March, however, such in-person initiatives became impossible. That only strengthened Blake's resolve to make the New York Tech remote student experience both rich and robust.
---
---
Pivoting at warp speed to support students
Like the rest of the nation, New York Tech shifted from "wash your hands" to "close the campuses" practically overnight. Blake is proud of how her team helped faculty and students transition to online education in a mere two weeks. To keep students feeling engaged and connected, she collaborated intensively with a whole host of people—including representatives from student government and leadership groups, and from the Greek life system—to figure out how to turn live events into remote experiences.
"No one worked in a silo," she recalls. "We all came together to make decisions fast and to avoid duplication. Students, faculty, and staff were all part of the process, and everyone was interested and eager to help."
Deep collaboration reaped impressive results that went beyond hosting large gatherings on Zoom. By the end of March, for example, Blake, her colleagues, alumni, staff, student leadership and supporters—such as the American Association for University Professors (AAUP)—had created an emergency fund that benefitted more than 700 New York Tech students. "We pulled together from around the university to support students with funds they could use for food, housing, technology, and health emergencies."
New initiatives throughout the summer and into the fall
Even as the pandemic persists, the school continues to plan and roll-out student-focused initiatives. Here are five of them:
Bear Bytes. This fall, New York Tech will address issues of food insecurity, health, and wellness and introduce the "Grizzly Cupboard"—a food pantry—on each New York campus. Blake is excited about offering a safe, contactless distribution of nutritious food essential for students' wellbeing. "This service will help any student who is struggling to pay for food. It's also for students who need nutritious items and information about health and wellness. We think of this initiative as an educational moment that meets student needs, with no stigma attached."
Students First: Community Conversation series. When brainstorming about how to share important information with students over the summer, Blake was reluctant to send easy-to-ignore emails. She thought, why not showcase our community by having students interview faculty and staff about key topics? In collaboration with the Registrar, Admissions, and the Advising & Enrichment Center, the Students First series was born. So far, hundreds of participants have attended Zoom webinars addressing course planning for the fall semester, tech support for students, health and wellness resources, campus enhancements, student life initiatives, and more.
BEAR (Be Engaged and Roar) Into Leadership program. In September, the Office of Student Life will offer a new certificate program to help students acclimate to life at school and frame their academic plans with a career in mind. BEAR into Leadership is a cross-departmental offering with workshops on financial literacy and building communication and leadership skills. "In normal times, we'd have to limit the number of participants," says Blake. "On Zoom, there's no cap, and we'll take as many students as possible."
Virtual New Student Orientation Program. Ever the optimist, Blake says there are some big advantages to shifting orientation online. Consider, for example, the challenge of scheduling the event for students juggling work, academics, family responsibilities, and commuting. "Now we don't have to worry about choosing the right day and time for orientation. Everyone can complete the one-hour program online at their convenience." Blake is also planning a New Student Academic Convocation to help mobilize and engage students the day before the semester starts.
Career Camp Accelerated Series. Do students really need career counseling during the summer in the middle of a pandemic? Absolutely, says Blake. That's why New York Tech created a well-attended summer program consisting of four online workshops covering job search, networking, interview skills, and more, as well as one-on-one sessions with a career advisor.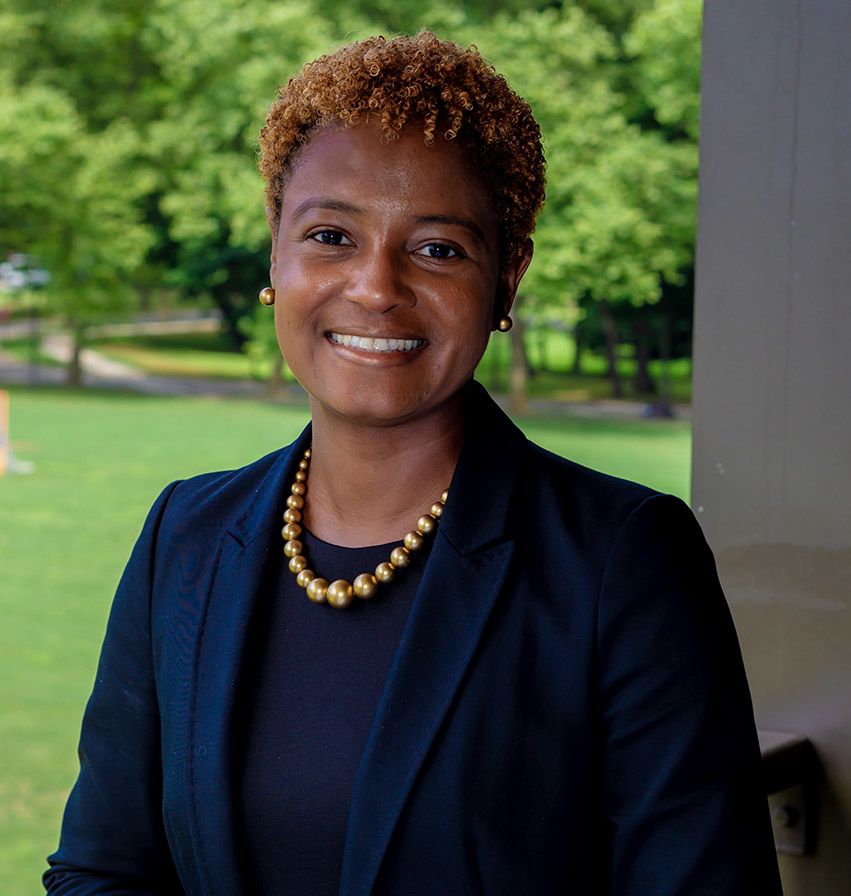 ---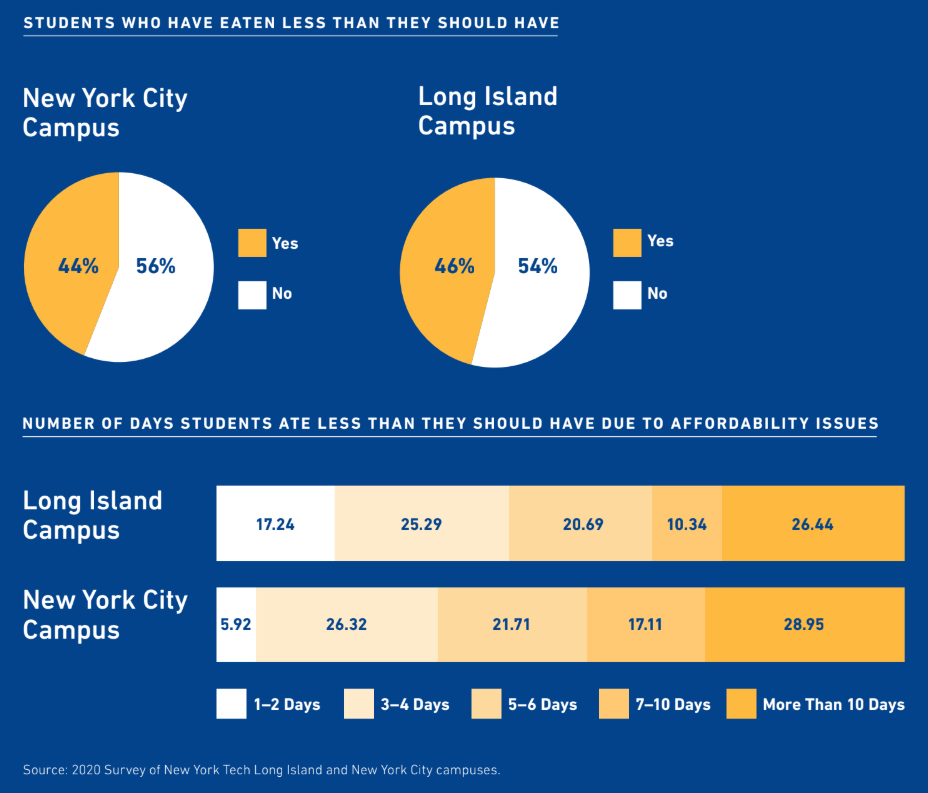 Prior to establishing its Bear Bytes health and wellness program, New York Tech conducted a survey of students at its New York campuses in fall of 2019. More than half answered yes to having "eaten less food than they thought they should have due to not having enough money over the course of a month." In a follow-up question, more than 25 percent of students stated they had eaten less than they thought they should have for "more than 10 days" in the month prior to taking the survey. Credit: New York Institute of Technology/Julia Donahoe
---
Out of adversity comes opportunity
With so many new initiatives either already underway or soon-to-be-unveiled at New York Tech, stalwarts like Blake, her colleagues, and motivated students have proven themselves adept at creating programs and processes in the face of unexpected change. Despite a planned September 9 start date for hybrid learning, future pivots and iterations may yet be needed. 
How does Blake deal with such uncertainty? "I've learned that we all need to be flexible—and be transparent about that flexibility," she explains. "When students ask me a question that I don't know the answer to, I say, 'We've never encountered this before, but I'll see what I can find out and will get right back to you.' How faculty and staff interact with students at this time is a learning experience for them about how to handle a crisis."
"It's hard to plan in the unknown," she continues. "But I'm confident that at New York Tech, we'll execute all of our programs well. That's something we can control."
With trademark optimism, Blake adds, "I think all this uncertainty leads to innovation and creativity. The pandemic gives us an opportunity to do, make, innovate—to reinvent our future. It's not just our motto, it's how we think at New York Tech."
---
This content was paid for by New York Institute of Technology and produced by Inside Higher Ed's sponsored content team.
The editorial staff of Inside Higher Ed had no role in its preparation.