Four Tips for Managing Crisis Communications in the COVID-19 Era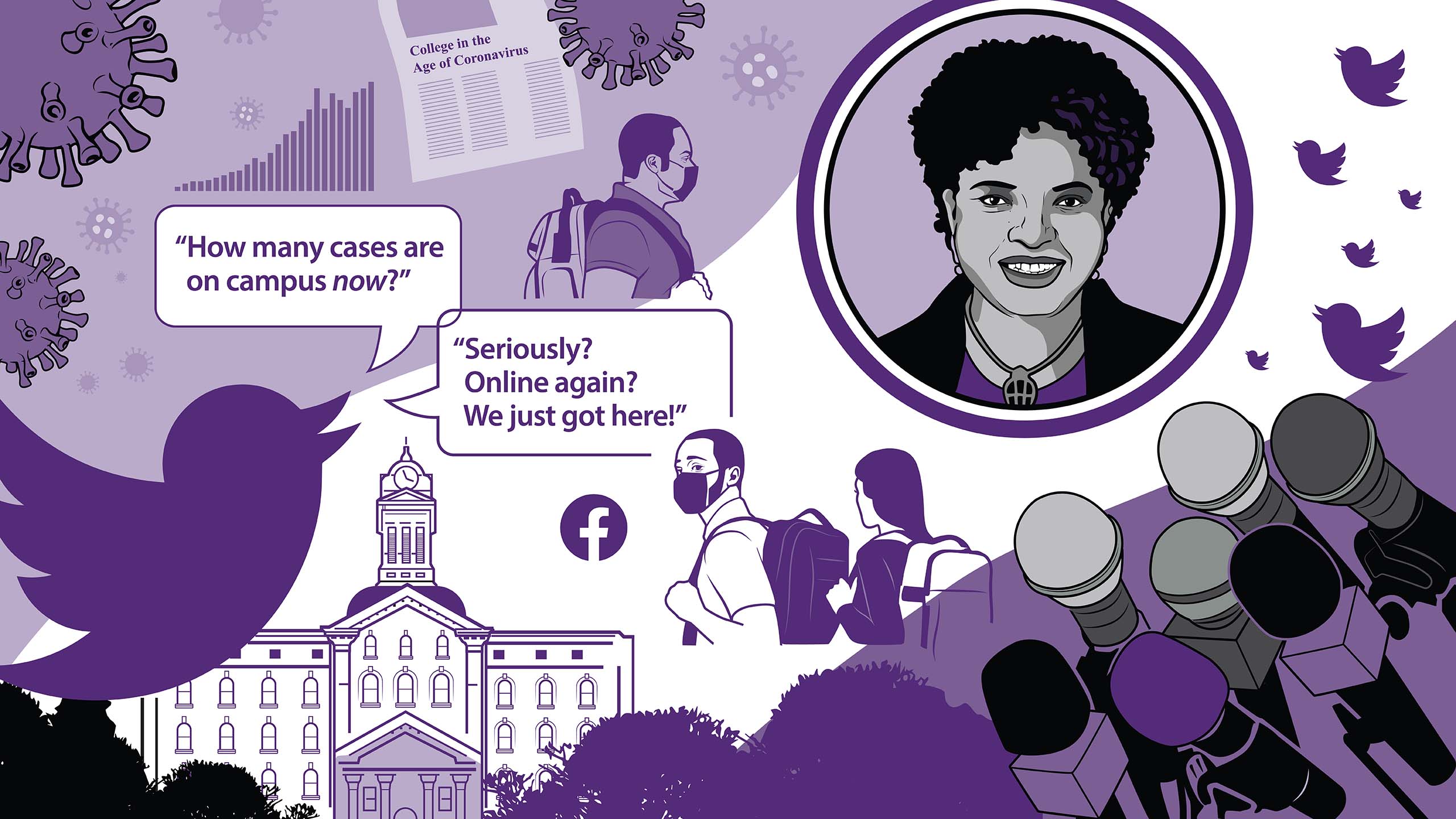 A leading crisis communications expert explains how universities can survive—and thrive—in trying circumstances. Illustration: T.M. Detwiler
A leading crisis communications expert explains how universities can survive—and thrive—in trying circumstances. Illustration: T.M. Detwiler
Amiso George has spent her career doing what most of us try to avoid: responding to crises. A professor of strategic communication at the Bob Schieffer College of Communication at Texas Christian University in Fort Worth, George teaches students at TCU—as well as business leaders and organizations around the world—how to plan, communicate, and lead effectively during the very toughest of times. 
Like right now, for instance. The COVID-19 crisis has put colleges and universities on the frontlines of crisis communications, and George has been providing tactical strategies to mitigate pandemic-induced fear and confusion. "No crisis manual could have prepared any organization for coping with the coronavirus," says George. "But even in this most extraordinary crisis, there are a few things we can do to help us navigate better."
To that end, George—a world-renowned crisis-communications expert, fellow of the Public Relations Society of America and its 2017 Educator of the Year—shares some best practices to help universities and colleges survive, and even thrive, in trying circumstances. Those practices include assembling a crisis management team (CMT); following a four-step "GMER" process; leading with honesty and compassion; and disseminating clear, consistent, fact-based information.
Before laying out the following practical approach to crisis communications in higher education, George notes that individual schools should adapt the guidelines based on factors such as location, campus culture, and other unique circumstances. With that in mind, here are George's recommendations for educators and administrators on the frontlines of crisis communications. 
1. Put a crisis management team (CMT) in place—yesterday.
"If you wait until a crisis hits before assembling a CMT," says George, "it's already too late." This collaborative team is tasked with analyzing crisis circumstances, determining an action plan, and ensuring that the plan limits potential damages from any kind of disaster, be it an earthquake, a wildfire, or a school shooting. During the pandemic, stakeholders have advised on everything from how to quickly shift from on-ground to remote learning, how to feed food-insecure students when a campus is closed, and how to plan for a safe reopening. 
Who's on this team? "You'll want top departmental administrators and representatives from Marketing/Communications, IT, Facilities Management, and Human Resources, as well from the student body," explains George. Also vital: outside experts, including local business people, political leaders, and alumni, who can objectively assess the breadth and effectiveness of a college or university's plans. "In the case of COVID-19, for example, directives should be taken from the appropriate city/county health department," says George. "Colleges and universities with medical schools or health programs should tap their medical experts on infectious diseases to work with the crisis team to clarify or tailor the message to the campus community."
"This pandemic is unlike anything we've ever dealt with. All we know is what we know right now. Regularly updating your audience based on new, science-backed information isn't a flip-flop. It's strong leadership."
2. Get ready to GMER: Gauge, Modify, Execute and Review.
No matter the nature of the crisis, the CMT must be empowered to act with both speed, which helps people feel less anxious, and dexterity, since there's no "one-size-fits-all" emergency-response solution. George recommends crisis management teams follow a four-step approach called GMER: 
Gauge. Carefully assess the situation no matter how fluid or unpredictable it may be. Back in March, George was "shocked at the speed of spread and the transboundary nature of the virus." Last spring, CMTs around the country worked intensively to help faculty and administrators shift to remote learning practically overnight.
Modify. Expect to make on-the-spot, reasoned decisions and implement stop-gap measures. At this stage, the CMT's goal is to get functional systems up and running fast. Think effectiveness, not perfection, while developing long-term plans.
Execute. Here, the CMT identifies tools and tactics that support systemic modifications. During the COVID-19 crisis, such tactics likely include learning how to leverage online teaching tools or adapt a syllabus to distance learning, then communicating those decisions clearly to all target audience members, prioritizing internal audiences. 
Review. Are the new systems and protocols working? If not, why not? At this critical juncture, the CMT evaluates and iterates on the initial crisis response in order to create sustainable, scalable processes.
A brief history of Amiso George
Born and raised in Nigeria, Amiso George moved to the United States to study at Ohio University. One B.A. (journalism), one M.A. (international affairs), and one Ph.D. (mass communications) later, she was tapped to create and teach the first course in crisis communications at the University of Nevada, Reno. 
In 2005, George joined the faculty at TCU, where she's often called on to share insights about global events, such as how Nigeria quashed the Ebola outbreak in 2014, or how the Malaysian government responded to the disappearance of Malaysia Airlines Flight 370 that same year. 
Since TCU's fall semester began in August, George has been officially on sabbatical. In fact, she was supposed to be in Kyrgyzstan at the American University of Central Asia as a 2020 Fulbright Scholar—but the pandemic scuttled that plan.
One project that's keeping her busy is co-authoring the sixth edition of the textbook, Crisis Communications: A Casebook Approach (Routledge, summer 2021) with co-author Kathleen Fearn-Banks, a communications professor at the University of Washington. In addition to highlighting responses to the pandemic, the book will examine how businesses and organizations have handled instances of police killings, racism, and systematic discrimination.
3. Lead with both business and benevolence.
Honest. Transparent. Compassionate. Calm and confident. Humble. George says these qualities are essential to leading a college or university, a city or county, or even a country during times of crisis. On that note, George praises New Zealand's Prime Minister Jacinda Ardern for her response to the pandemic. "She's strong, decisive, collaborative, and she listens to the science." 
George observes that PM Ardern has another arrow in her COVID-19 quiver that educational leaders also can adopt: tapping into the "all for one and one for all" spirit that pervades her small Pacific Ocean nation—and most college campuses. People are more likely to be on board when they understand that tough measures like closing businesses or canceling in-person classes will protect the health of their broader community and allow organizations to enact processes that will enable them to adapt operations during and after a crisis. George describes this as establishing "business continuity." A university leader, for example, might emphasize the continuity of making safe, smart choices for the long-term viability of the institution because doing so reflects the values and mission of the school itself. 
4. Control the message.
When it comes to messaging, George is succinct. "Keep it short, clear, and relevant—and repeat it." Leaders must share a COVID-19 message like "mask up, sanitize, and social distance" frequently so the behavior becomes as automatic as putting on a seatbelt. 
George again emphasizes the need for unified, cross-departmental communication. To avoid confusion and to combat the spread of conspiracy theories and fake news, all university spokespersons must speak with one clear, consistent voice. That makes sense, but when managing a crisis as complex and, well, novel, as the coronavirus, is it realistic? 
"This pandemic is unlike anything we've ever dealt with," explains George. "All we know is what we know right now. Regularly updating your audience based on new, science-backed information isn't a flip-flop. It's strong leadership."
Responding to a crisis in the COVID-19 era
Amiso George's recommended resources from practitioners and scholars:
Find opportunities in the new normal
While acknowledging that the coronavirus has "entirely changed our way of life," George predicts some good may emerge from the current crisis. Looking ahead, she imagines a world where leaders at universities and beyond proactively address issues that have emerged as a result of the general discussion about impact of COVID-19, such as protests against systemic racism, discrimination and inequity. If leaders are proactive, says George, issues are less likely to evolve into a crisis.
Most of all, George hopes the people who lead universities, companies, and communities will manage any crisis with their integrity firmly in place. Those who do so may find themselves being compared to calm, confident, compassionate leaders like New Zealand's Jacinda Ardern—or even TCU's own Amiso George.
---
Want to read more stories like this one?
Visit this site to learn how TCU faculty are saving a mascot from extinction, turning iPhones into hearing aids, developing therapeutic art programs, and more.
---
This content was paid for by Texas Christian University and produced by Inside Higher Ed's sponsored content team. The editorial staff of Inside Higher Ed had no role in its preparation.
---